How Do I Return an Item from Dollar Tree?
Dollar Tree offers customers great value for money and allows customers to return items. They are unable to provide a refund but will allow you to exchange an item. You can return the item either in person or via post and must have all the original package and a receipt to get an exchange.
How do I return an item from Dollar Tree?
Dollar tree aims to offer customers great value for money while providing a large selection of products at a fraction of the cost of other stores. At Dollar Tree, you'll find many products to suit a variety of tastes. There's a selection of toys, stationery, and gifts, all for just one dollar. You can shop Dollar Tree products online or in-store, and if the product isn't as you expected, you can return it.
Unfortunately, Dollar Tree isn't able to offer refunds on its products. The company says that this is to keep their costs as low as possible. Instead, they let customers exchange non-seasonal products. When returning an item, you must ensure that it's in its original packaging and hasn't been opened. You'll also need to bring the receipt with you if you're returning an item to a store.
What is Dollar Tree's return policy?
Dollar Tree doesn't offer refunds and considers all sales final. You can, however, return an item in-store or via post if you've been shopping online. Make sure the item you're returning is unopened and in the original packaging. You'll also need to provide a receipt so that you can exchange the item. Dollar Tree doesn't offer exchanges on seasonal merchandise.
If you've ordered some products online, you'll be able to return them using a pre-paid postage label.
Contact Dollar Trees Customer Service Team
If you want to return a product to Dollar Tree, you can call the customer service team, who will be happy to offer help and advice. The company can also be contacted by email or via social media. The phone line will be answered 24/7.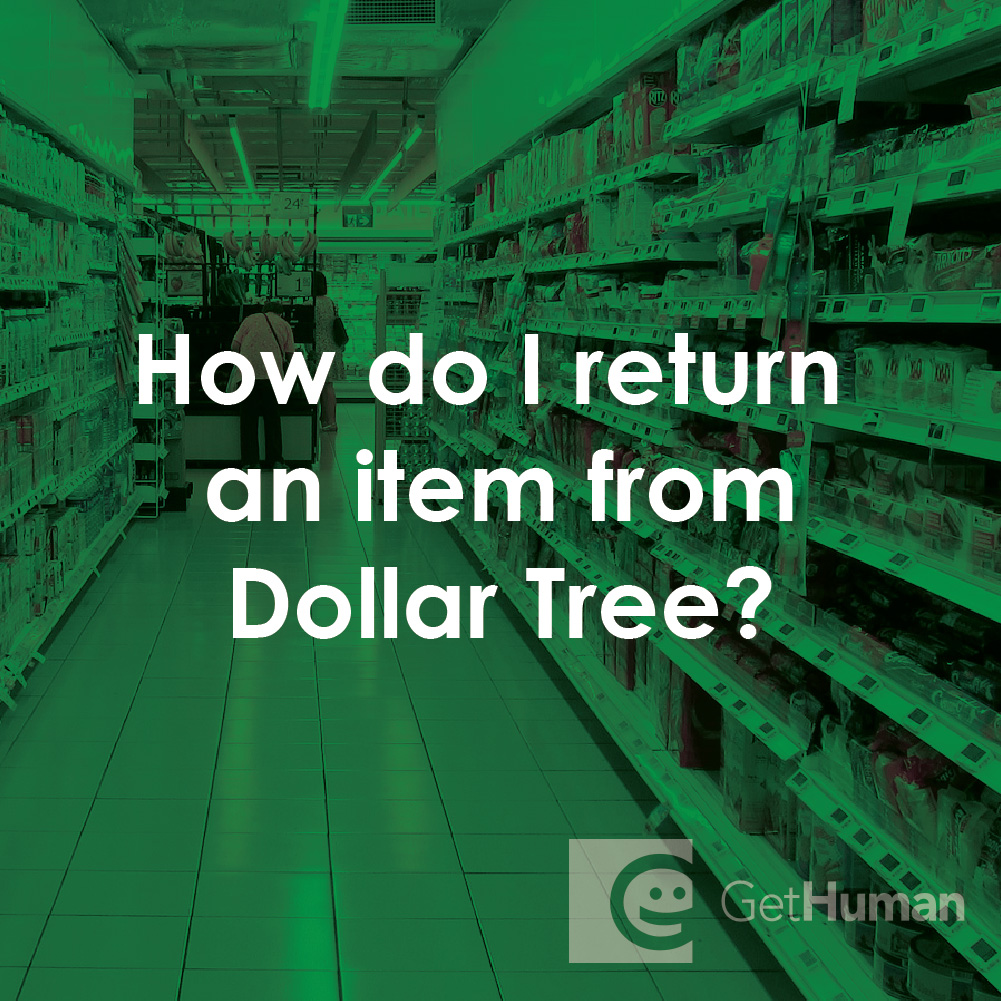 Why Did GetHuman Write "How Do I Return an Item from Dollar Tree?"?
After thousands of Dollar Tree customers came to GetHuman in search of an answer to this problem (and many others), we decided it was time to publish instructions. So we put together How Do I Return an Item from Dollar Tree? to try to help. It takes time to get through these steps according to other users, including time spent working through each step and contacting Dollar Tree if necessary. Best of luck and please let us know if you successfully resolve your issue with guidance from this page.
Why does GetHuman Write How-to Guides for Dollar Tree Problems?
GetHuman has been working for over 10 years on sourcing information about big organizations like Dollar Tree in order to help customers resolve customer service issues faster. We started with contact information and fastest ways to reach a human at big companies. Particularly ones with slow or complicated IVR or phone menu systems. Or companies that have self-serve help forums instead of a customer service department. From there, we realized that consumers still needed more detailed help solving the most common problems, so we expanded to this set of guides, which grows every day. And if you spot any issues with our How Do I Return an Item from Dollar Tree? guide, please let us know by sending us feedback. We want to be as helpful as possible. If you appreciated this guide, please share it with your favorite people. Our free information and tools is powered by you, the customer. The more people that use it, the better it gets.