How Do I Switch My Internet Provider to Frontier Communications?
You can switch your internet service to Frontier Communications without any hassle. Make sure to review the terms and conditions of your current internet provider before changing the company. Check if you have to pay any early termination fee. Additionally, confirm the availability of the internet plan you desire with the new company. Then, customer service will help you in signing up with the internet service.
Are you planning to switch to Frontier Communications' internet plan? It is common to change your internet carrier. However, make sure to find out if the new provider offers a better plan for you.
Once you are sure of your decision, you can make your switch by contacting customer service. To avoid any hassle during the transition, follow the right protocol.
Check the Terms of Your Previous Internet Plan
Before signing up with the new internet provider, you have to check the policy of your current service. Most internet service companies have a contract of one or two years. If you are reaching the end of your contract, begin comparing different plans from various companies.
At times, you may want to switch services even midway through your contract duration. It is possible to switch companies whenever you wish to. However, check the terms of the provider thoroughly before doing so. Most companies require you to pay an early termination fee.
The fee varies according to your internet provider and your plan.
Confirm Availability of Plans
It is also crucial to check the availability of internet plans before switching to the new provider. The internet connection type and plans may change for different states.
To check the availability of plans in your region, go to the official Frontier Communications website and follow these steps:
Go to the "Shop" tab and choose the "Internet" option.
Enter your street address, ZIP code, and click on the "Check availability" button.
You can now browse through the available internet plans in your area and check the prices.
Cancel Your Previous Internet Service
If you are satisfied with the plans available, you can cancel your old internet service. Cross-check if there are any exit procedures and follow them. Make sure to return the modem, router, and other equipment if you rented them from the provider.
Return the devices as early as possible. Late returns and any damages to the equipment can cost you additional fees. Some internet providers may try to convince you to continue their services. You may also receive offers of lower rates and other benefits.
Assess if these new deals are beneficial for you. If it is still not convincing, you can complete the cancellation process and get ready to change your internet service.
Contact Customer Service
You can call Frontier's customer service to switch your internet plan. Discuss your new plan with the customer representative. Make sure to ask for additional information regarding the service quality.
You may check your eligibility for different discounts. Additionally, find out about the installation and equipment costs. Finally, confirm the internet plan and the customer representative will process your switch.
The internet company also offers a live chat option to attend to your queries instantly. Customer representatives will help you find the most suitable Frontier Communications internet plan.
Help from Real People
We partner with a US-based company with live tech support experts available 24/7. Take advantage of a $1 one-week trial membership and chat with an expert now.
Chat With A Help Expert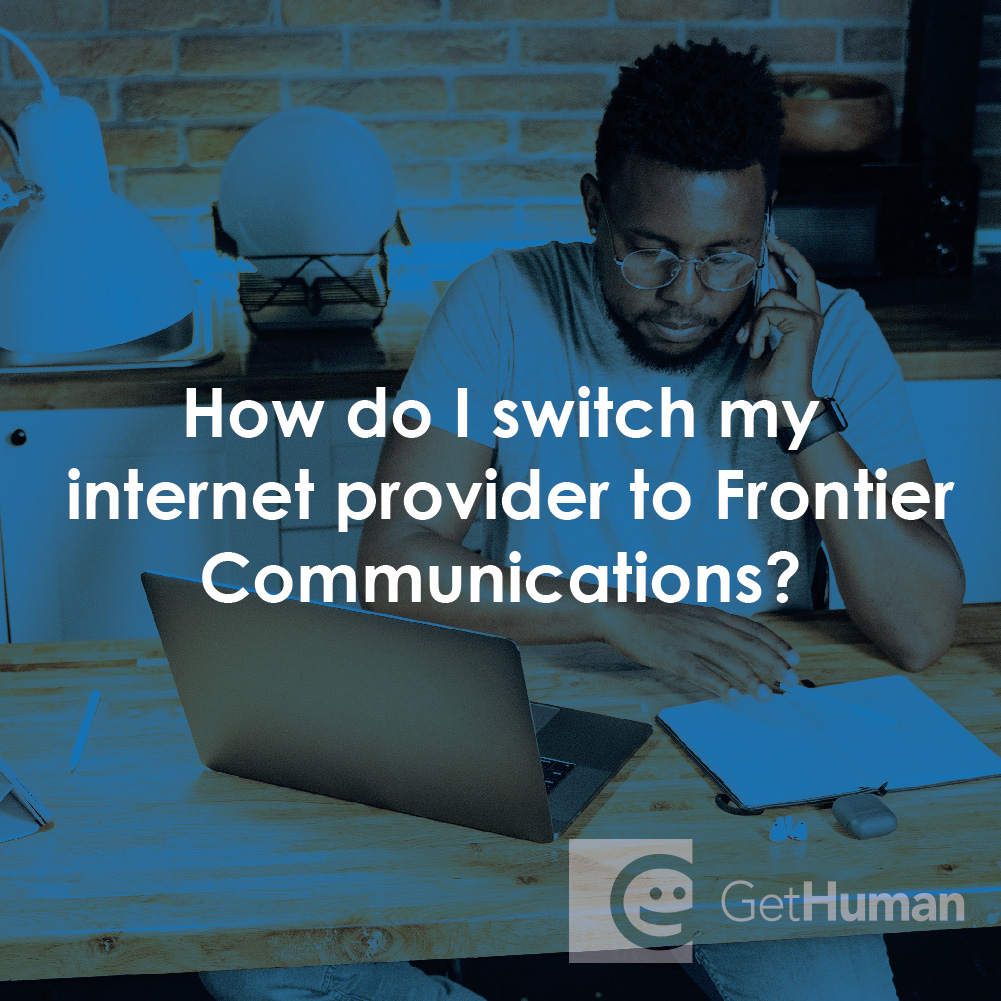 Why Did GetHuman Write "How Do I Switch My Internet Provider to Frontier Communications?"?
After thousands of Frontier Communications customers came to GetHuman in search of an answer to this problem (and many others), we decided it was time to publish instructions. So we put together How Do I Switch My Internet Provider to Frontier Communications? to try to help. It takes time to get through these steps according to other users, including time spent working through each step and contacting Frontier Communications if necessary. Best of luck and please let us know if you successfully resolve your issue with guidance from this page.
Why does GetHuman Write How-to Guides for Frontier Communications Problems?
GetHuman has been working for over 10 years on sourcing information about big organizations like Frontier Communications in order to help customers resolve customer service issues faster. We started with contact information and fastest ways to reach a human at big companies. Particularly ones with slow or complicated IVR or phone menu systems. Or companies that have self-serve help forums instead of a customer service department. From there, we realized that consumers still needed more detailed help solving the most common problems, so we expanded to this set of guides, which grows every day. And if you spot any issues with our How Do I Switch My Internet Provider to Frontier Communications? guide, please let us know by sending us feedback. We want to be as helpful as possible. If you appreciated this guide, please share it with your favorite people. Our free information and tools is powered by you, the customer. The more people that use it, the better it gets.