What's the Best Frontier Modem for My Home?
The best Frontier modem for your home depends on what you want to do with the internet services. If you want to play, then the ASUS ROG GT-AC2900 is the best to make you play like a gaming pro. But if you want the modem for other purposes like working online at home, gaming, and online video conferencing, then Motorola MD 1600 will meet your needs with high-speed internet connectivity.
Established in 1935, Frontier communications is one of the largest American telecommunications companies offering local and long-distance telephone services, digital television services, computer technical support, as well as broadband internet services to businesses and residential customers.
The company has over 107.3 million fixed telephone subscribers, more than 103.36 million subscribers of broadband services, and more than 18,000 employees. Once you purchase one of Frontier's products, you have to register and open an account that is useful in tracking your payment history, account summary, bills, the mobile application, and personal information in the profile section.
Frontier communications provide one of the best Frontier modems and routers with fiber-optic options systems and DSL systems. You can either install yourself or with the help of a technician. If you do the installation yourself, the company has a voice guide that walks you through it to ensure you get the best possible results in terms of performance.
Getting the best Frontier modem for your home will depend on your individual or business needs for the network to determine the best one that meets those needs. You will also need to talk to one of the Frontier technicians or support staff to explain the advantages and limitations of each type of modem they offer to simplify the decision-making process on the type of modem to rent or purchase.
Finding the best modem for your home needs
Frontier Communications offers DSL internet systems that require the use of a modem to work effectively. You are expected to link your phone and the Frontier compatible DSL modem through a telephone jack for it to work.
Types of Frontier modems to choose the best from
1. Motorola MD1600 Modem Router Combo
The modem has an in-built AC1600 router with four Gigabit Ethernet ports, WPA/WPA2 security, firewall, VPN, and IPv4-6 support and delivers 100Mbps speed fit for your internet usage. It also has a USB 2.0 port for USB storage devices and a printer and supports internet sharing. It can also support other internet-enabled devices in your homes such as computers, gaming consoles, and HDTVs with the same robust internet speed. The modem-router combo requires less storage space, is user-friendly, easy to install, and keeps wires at bay.
2. ASUS ROG GT-AC2900
This type of modem is mostly used for gaming and makes you enjoy your game without interruptions. It is easy to navigate and maneuver the modem compared to others. The modem has three antennas and an ASUS Aura lighting. The GT-AC2900 also has a triple-level game accelerator, ports, and cloud-gaming router with GeForce.
How to contact Frontier Communications
To make your order for the Motorola MD1600 Modem Router Combo and ask more questions about the available modems, the best and easiest way to contact Frontier Communications customer service is on their office phone line or through a live chat for prompt answers and assistance.
You can also contact them through their helpdesk if you cannot get them on the phone, which is a sporadic occurrence. Another alternative you can use to get to Frontier Communications customer service is sending an email to them, which is a prolonged method of getting assistance compared to calling and live chatting. It takes up to 10 hours to get a reply.
Help from Real People
We partner with a US-based company with live tech support experts available 24/7. Take advantage of a $1 one-week trial membership and chat with an expert now.
Chat With A Help Expert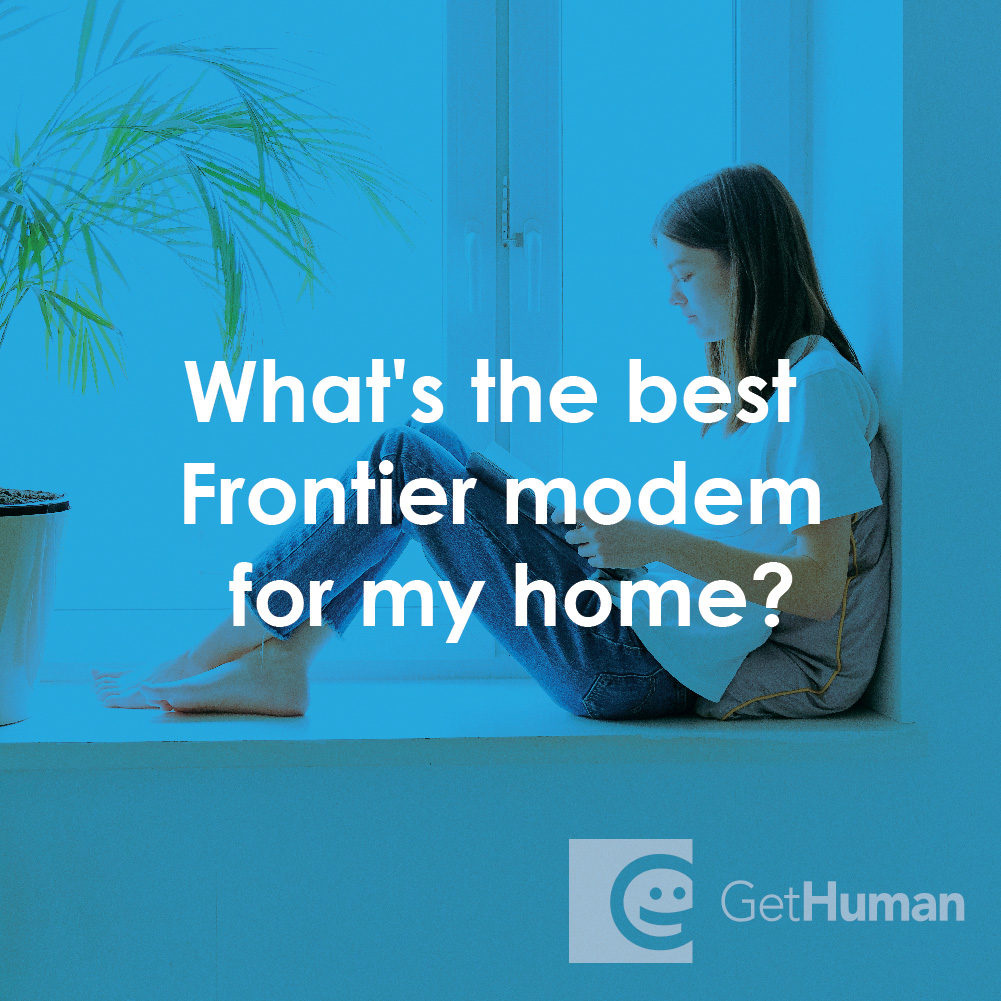 Why Did GetHuman Write "What's the Best Frontier Modem for My Home?"?
After thousands of Frontier Communications customers came to GetHuman in search of an answer to this problem (and many others), we decided it was time to publish instructions. So we put together What's the Best Frontier Modem for My Home? to try to help. It takes time to get through these steps according to other users, including time spent working through each step and contacting Frontier Communications if necessary. Best of luck and please let us know if you successfully resolve your issue with guidance from this page.
Why does GetHuman Write How-to Guides for Frontier Communications Problems?
GetHuman has been working for over 10 years on sourcing information about big organizations like Frontier Communications in order to help customers resolve customer service issues faster. We started with contact information and fastest ways to reach a human at big companies. Particularly ones with slow or complicated IVR or phone menu systems. Or companies that have self-serve help forums instead of a customer service department. From there, we realized that consumers still needed more detailed help solving the most common problems, so we expanded to this set of guides, which grows every day. And if you spot any issues with our What's the Best Frontier Modem for My Home? guide, please let us know by sending us feedback. We want to be as helpful as possible. If you appreciated this guide, please share it with your favorite people. Our free information and tools is powered by you, the customer. The more people that use it, the better it gets.