What Questions Should I Ask Geico When Shopping for Auto Insurance?
GEICO has been in business since 1936 and has grown significantly over the years. Its offerings have expanded from vehicle insurance to homeowners, renters, business, and much, much more. It also has an informative website, a useful app and a 24-hour customer service line for your convenience. All in all, getting in touch with GEICO will help you address your questions about its auto insurance, including any discounts.
Let's face it, shopping for insurance of any kind can be boring for some people and overwhelming for others. This guide can help you with the overwhelming parts of looking for the best insurance. Unfortunately, there are no guarantees about boredom. This guide is guaranteed to help you with the right questions for your needs if when looking for insurance from GEICO, auto and any other type that may interest you.
GEICO is the second largest auto insurance provider in the United States, second only to State Farm, and started out offering purely auto insurance. It has expanded into other types of insurance, including umbrella, renters, boat, motorcycle, homeowners and condo.
What Are the Types of Insurance GEICO Offers?
As of this guide, GEICO lists four categories of insurance: vehicle, property, business and additional insurance, which makes exploring the types of insurance easier and more intuitive. For example, you'll find rideshare insurance as a subtopic under vehicle insurance offerings. As for property insurance, you'll find homeowners', renters, landlord and flood listed as a few possible options. Business insurance options include business liability, medical malpractice, worker's comp, wellness and general liability. Ridesharing is also here, in addition to vehicle insurance.
The additional insurance category has umbrella, life, traveler's, pet and jewelry. Geico also offers overseas and identity protection insurances as well.
What's GEICO's Website Like?
Geico.com is intuitive and important tabs are located on the right-hand side of the page. It has two main tabs under its menu, insurance and information. The website has information on My Account, the claims process and roadside help, the company, and the mobile apps. Information for discounts can be found under the tools and resources topic. The website is great at breaking everything down into basic, easy-to-understand language without the legal speak. It also has a terrific app for managing your account.
How Do I Contact GEICO?
GEICO has many options for getting in touch with its customer service. You can call a GEICO customer service representative, mail, email, chat or send its agents a tweet. The GEICO website also has a help page to help you find what you're looking for if you're the type who'd rather complete your own research. For those who prefer in-person interactions, you can also find an agent using GEICO's agent locator.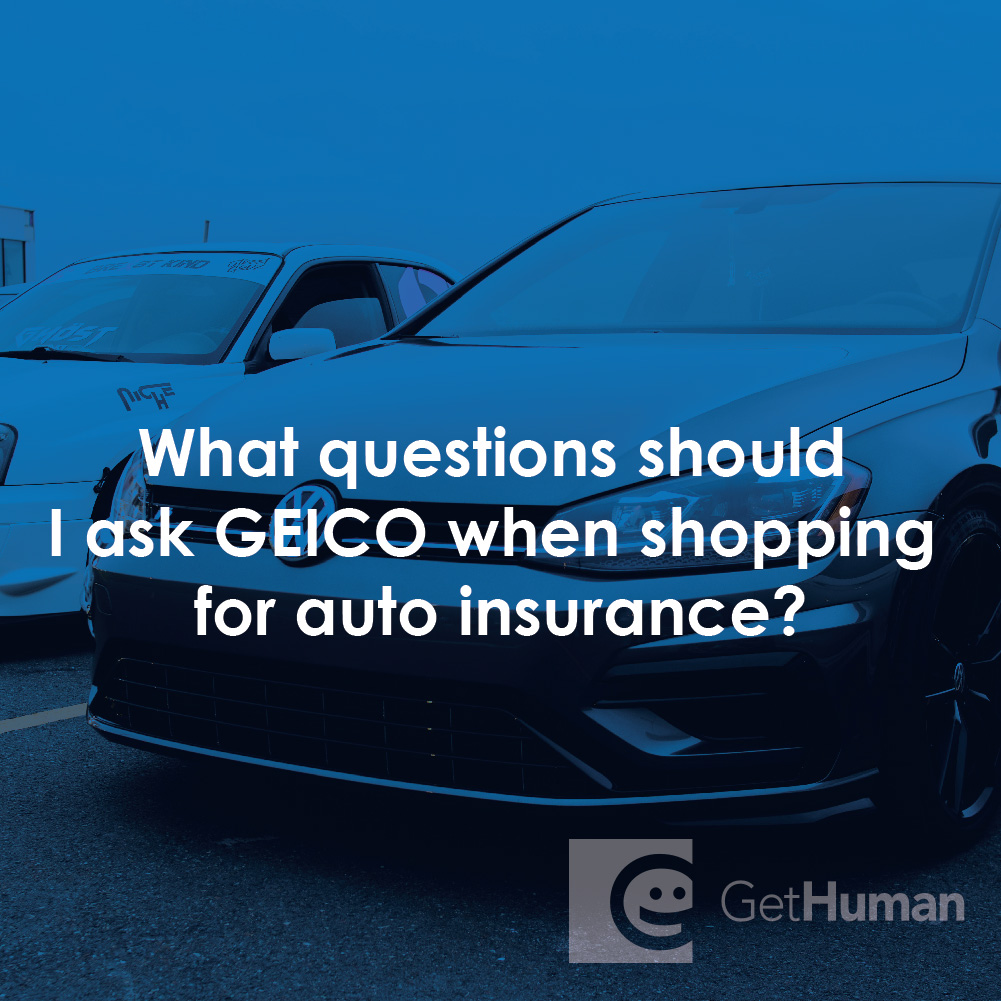 Why Did GetHuman Write "What Questions Should I Ask Geico When Shopping for Auto Insurance?"?
After thousands of GEICO customers came to GetHuman in search of an answer to this problem (and many others), we decided it was time to publish instructions. So we put together What Questions Should I Ask Geico When Shopping for Auto Insurance? to try to help. It takes time to get through these steps according to other users, including time spent working through each step and contacting GEICO if necessary. Best of luck and please let us know if you successfully resolve your issue with guidance from this page.
Why does GetHuman Write How-to Guides for GEICO Problems?
GetHuman has been working for over 10 years on sourcing information about big organizations like GEICO in order to help customers resolve customer service issues faster. We started with contact information and fastest ways to reach a human at big companies. Particularly ones with slow or complicated IVR or phone menu systems. Or companies that have self-serve help forums instead of a customer service department. From there, we realized that consumers still needed more detailed help solving the most common problems, so we expanded to this set of guides, which grows every day. And if you spot any issues with our What Questions Should I Ask Geico When Shopping for Auto Insurance? guide, please let us know by sending us feedback. We want to be as helpful as possible. If you appreciated this guide, please share it with your favorite people. Our free information and tools is powered by you, the customer. The more people that use it, the better it gets.