How Do I File My Taxes with Jacskon Hewitt?
Jackson Hewitt service company helps many United States taxpayers prepare their tax returns. It has taxpayer software that helps in the tax preparation process. You need to know your tax status and create a Jackson Hewitt online account before filing your taxes. You can use the free, deluxe or premier tax filing option depending on your income. You can file your taxes online or by visiting one of the Jackson Hewitt tax offices.
How Do I File My Taxes With Jackson Hewitt?
Jackson Hewitt offers tax return preparation services to many taxpayers in the United States. It was founded in 1982, and it is headquartered in Jersey, United States. The company has around 6000 employees and an 82% CEO approval rating.
Jackson Hewitt has an IRS approved tax school whereby people are taught about tax preparation. You can enrol for in-person, virtual or an online course when in this school. The scheduling of the classes is flexible, and you can choose to learn when you are free.
The company has tax software that is used by its customers when filing taxes. You can file your taxes using the free, deluxe or premier option. The free option is for people whose income is less than $100,000, and they have no dependents. You can file all state returns and simple federal tax returns using this option without making any payments. You should use the deluxe option if you are a homeowner and certain people depend on you. When using this option, you will need to pay $36.99 for state returns and $29.99 for federal returns. The premier option is the most expensive option whereby you will have to pay 49.99 for federal filing and 36.99 for state filing. You can file these tax returns online or by visiting a Jackson Hewitt tax office. Below is a discussion on how to file your tax returns using these two options. `
Filing Taxes Online With Jackson Hewitt
You can file your taxes as a single person, married but filing separately or married and filing jointly. Make sure that you choose the right filing status to avoid wasting time and money. File your taxes online using the following steps.
Open the Jackson Hewitt tax software.
Click on the "tax document checklist" option to see the documents that are needed. You will need your government identification card, your previous year tax preparation documents and your social security card.
Calculate your taxable income and liability. You can calculate this using your previous year tax preparation documents.
Log in to your online tax preparation account. If you do not have a Jackson Hewitt online account, create one.
Download your W-2 tax form by entering a few digits from your previous tax form. Information from your form W-2 will be automatically filled in. Follow the instructions given to finish the filing process.
Filing Taxes With a Tax Professional
You will be assisted by a tax professional when preparing your tax returns. Many tax professionals are available at different Jackson Hewitt tax offices. Before going to the tax professionals, upload all the needed documents in the Jackson Hewitt portal. You can also drop them off at the nearest Jackson Hewitt location. Contact Jackson Hewitt to know the nearest Jackson Hewitt tax office. Follow these steps when dealing with a tax professional.
Visit the nearest Jackson Hewitt tax office.
Tell one of the tax professionals that you want to file your taxes.
Provide your government identification card to help the tax professional track down the documents you had uploaded earlier. The tax professionals will guide you through the tax filing process.
Help from Real People
We partner with a US-based company with live tech support experts available 24/7. Take advantage of a $1 one-week trial membership and chat with an expert now.
Chat With A Help Expert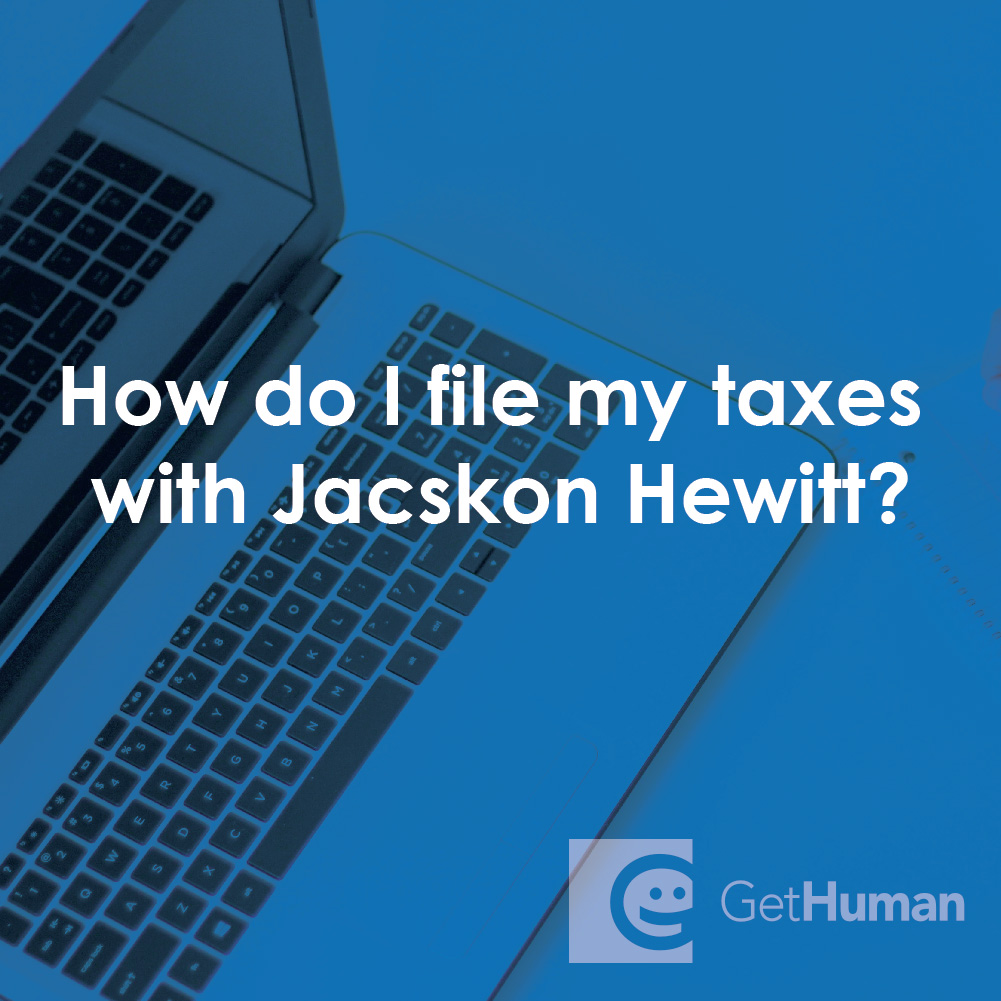 Why Did GetHuman Write "How Do I File My Taxes with Jacskon Hewitt?"?
After thousands of Jackson Hewitt customers came to GetHuman in search of an answer to this problem (and many others), we decided it was time to publish instructions. So we put together How Do I File My Taxes with Jacskon Hewitt? to try to help. It takes time to get through these steps according to other users, including time spent working through each step and contacting Jackson Hewitt if necessary. Best of luck and please let us know if you successfully resolve your issue with guidance from this page.
Why does GetHuman Write How-to Guides for Jackson Hewitt Problems?
GetHuman has been working for over 10 years on sourcing information about big organizations like Jackson Hewitt in order to help customers resolve customer service issues faster. We started with contact information and fastest ways to reach a human at big companies. Particularly ones with slow or complicated IVR or phone menu systems. Or companies that have self-serve help forums instead of a customer service department. From there, we realized that consumers still needed more detailed help solving the most common problems, so we expanded to this set of guides, which grows every day. And if you spot any issues with our How Do I File My Taxes with Jacskon Hewitt? guide, please let us know by sending us feedback. We want to be as helpful as possible. If you appreciated this guide, please share it with your favorite people. Our free information and tools is powered by you, the customer. The more people that use it, the better it gets.