How Do I Switch My Metro Pcs Account to Be Paperless?
Follow the steps given above to switch your Metro PCS account to be paperless.
How Do I Switch My Metro PCS Account to Be Paperless?
As a Metro PCS user, you can switch to paperless. Your bills are the same as what you receive in paper statements. The only difference is that you get yours online with paperless while the paper statements comes straight to your mail box. Actually, Metro PCS users find paperless more convenient, secure and environment-friendly.
As an enthusiast for paperless statements, you should know that to get the benefits, you must first sign up for paperless billing.
How Do I Sign Up for Metro PCS Account Paperless Billing?
Go to your Metro PCS account and log in
Go to payment and billing
Click paperless billing
Confirm your details e.g., email address
Toggle paperless billing ON meaning you have accepted paperless billing
Check the email address for a confirmation message when done
You should ensure that you have an active Metro PCS account and your details on file are accurate. The primary email is where your new bills will be sent. Now, you can access your Metro PCS bills via paperless and can check your bill statements online.
The new billing system is accurate and error-free as you get your bills sent to your email without fail. Unlike the past when mails can get lost of fail to be delivered which creates a backlog of bills or late fees kicking in. With the new billing you won't experience delays or be forced to pay late fees for a bill you haven't seen.
Besides, you can manage your bills easily by accessing your Metro PCS account online from any place or using any device whether smartphone, tablet or a computer. Some users check their new bills on the Metro PCS apps.
How Do I Benefit from Switching My Metro PCS Account to Be Paperless?
Users enjoy numerous benefits when they go paperless. It's not just Metro PCS that is giving customers the paperless option. If you are keen, you will see that most organization and companies are opting for paperless bills. It's the new trend as it's secure and easy for customers to manage their accounts.
As a Metro PCS account holder and user, you enjoy freedom of getting your bills on time when they are sent. You get instant bill alert which means there will be no delays or lost bill statements. All statements both current and past bills are stored securely on the Metro PCS website. You can access your previous and current bills online anytime. The access is limited to the last 24 months.
However, you can decide to view, or download the bill then printing it to have a hard copy of the statement. Paperless billing reduces clutter and paper waste. Plus, it saves you from mailing charges which you can use to settle your current bills. If you have problems with your Metro PCS account, simply contact Metro PCS customer support to get the issue sorted.
How Do I View My Metro PCS Account Paperless Bill?
Once you have sign in for paperless bills, and have received both verification or and confirmation, you are eligible to start receiving eBilling statements. Dealing with paperless bills is easy and convenient to manage.
To view your paperless bills, check your email or choose a notify option on your email for Metro PCS emails. This enables you to receive alerts every time a message from Metro PCS is sent to your email.
Alternatively, log in to your Metro PCS account to view the bill online. You need to use your password and user ID to access the account.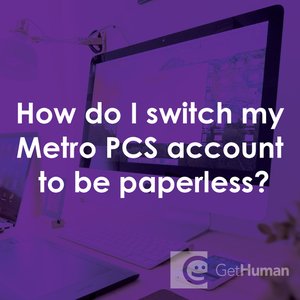 Why Did GetHuman Write "How Do I Switch My Metro Pcs Account to Be Paperless?"?
After thousands of Metro PCS customers came to GetHuman in search of an answer to this problem (and many others), we decided it was time to publish instructions. So we put together How Do I Switch My Metro Pcs Account to Be Paperless? to try to help. It takes time to get through these steps according to other users, including time spent working through each step and contacting Metro PCS if necessary. Best of luck and please let us know if you successfully resolve your issue with guidance from this page.
Why does GetHuman Write How-to Guides for Metro PCS Problems?
GetHuman has been working for over 10 years on sourcing information about big organizations like Metro PCS in order to help customers resolve customer service issues faster. We started with contact information and fastest ways to reach a human at big companies. Particularly ones with slow or complicated IVR or phone menu systems. Or companies that have self-serve help forums instead of a customer service department. From there, we realized that consumers still needed more detailed help solving the most common problems, so we expanded to this set of guides, which grows every day. And if you spot any issues with our How Do I Switch My Metro Pcs Account to Be Paperless? guide, please let us know by sending us feedback. We want to be as helpful as possible. If you appreciated this guide, please share it with your favorite people. Our free information and tools is powered by you, the customer. The more people that use it, the better it gets.