How Do I Change My Delivery Address on My New York Times Subscription?
The NYT is the 3rd most commonly circulated newspaper in the United States. Daily and Sunday editions of the NYT are printed in 27 locations across the country. Home delivery subscribers receive printed editions of the newspaper and have unlimited access to online content at the New York Times website. You can change or update your home delivery address through your account at the New York Times website.
The New York Times is a daily newspaper with a worldwide readership. It was founded in New York City in 1851, which makes it one of the oldest newspapers in the United States. In terms of circulation, the NYT is ranked 3rd in the US and 18th in the world. This well-respected publication has earned 132 Pulitzer Prices, which is more than any other newspaper.
Daily editions of the NYT are printed at 27 locations throughout the country. The newspaper is delivered by truck or plane and may travel thousands of miles to reach customers.
In addition to regular newspaper deliveries, a subscription for Home Delivery includes "All Digital Access" to online content from the New York Times. Subscribers have unlimited access to content available across all of the NYT applications, including cooking recipes, guides, and a digital Recipe Box with e-reader versions.
Availability
Home delivery isn't available everywhere. You can find out if your new or updated address is eligible for Home Delivery on the NYT website. Navigate to the "Home Delivery" section of the website. Enter your zip code and click the "View delivery options" button next to the entry box.
If home delivery isn't available for your new address, you can choose a digital subscription or delivery through the US mail. A digital subscription offers instant access to new content. You can access digital content with a desktop computer, a laptop, and apps for smartphones or tablets. Newspapers delivered through the mail are usually available two days after publication.
How to Change Your Delivery Address For Your New York Times Subscription

Follow these steps to update or change your address for home delivery.
1. Make sure you have the correct username and password for your NYT account on-hand
1. Navigate to the New York Times website and log in to your account
2. Find and click on the "Home Delivery" section
3. Select the change option located near the current listed delivery address
4. Edit the existing address or delete the old information and add your new delivery address
5. Click on the "submit" button
Contact NYT Customer Support
You can call the New York Times customer service line if you're having trouble changing your address, logging into your account, or accessing online content. Customer support is also available for problems such as late or missed deliveries. Click on the "Delivery Issue" or "I'm Moving" options on the help page to open a form. Use the large entry box to describe your problem. Provide as many details as possible to receive a faster response and solution. Enter your email address in the designated space, then click the "Continue" button at the bottom of the page.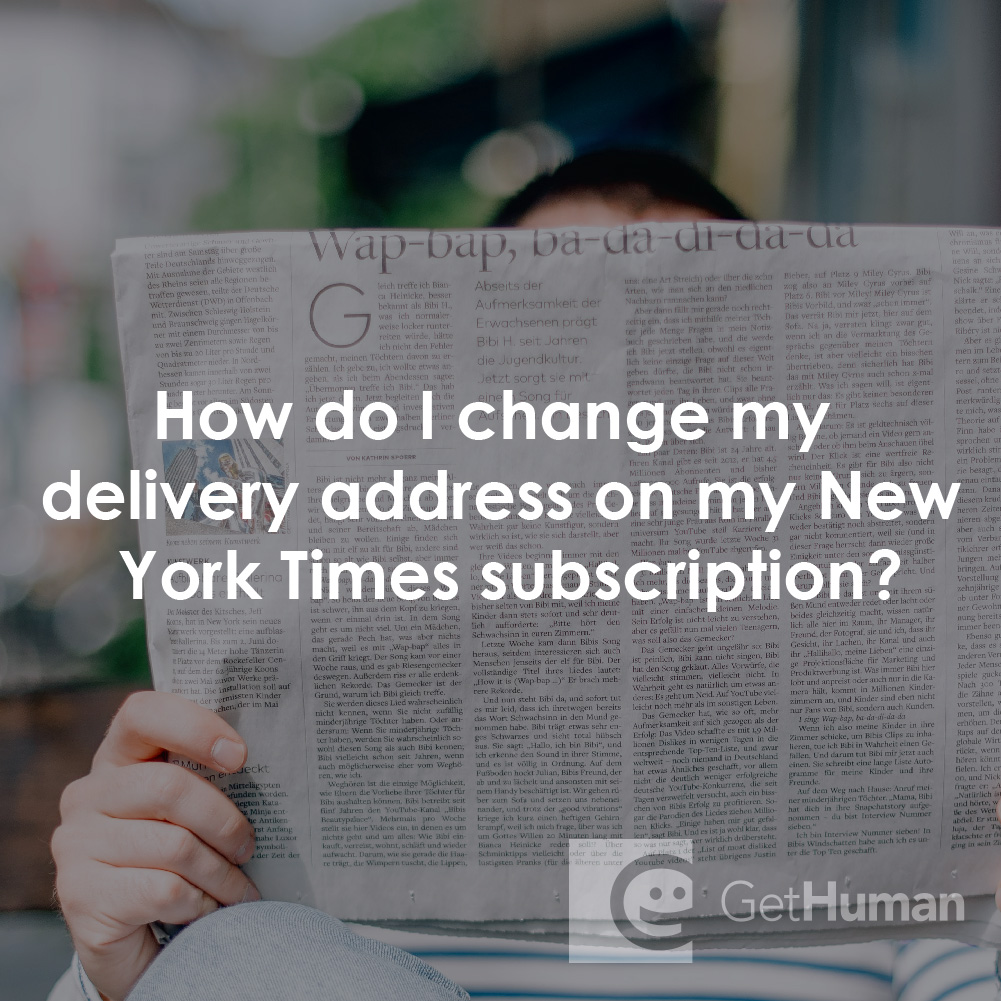 Why Did GetHuman Write "How Do I Change My Delivery Address on My New York Times Subscription?"?
After thousands of New York Times customers came to GetHuman in search of an answer to this problem (and many others), we decided it was time to publish instructions. So we put together How Do I Change My Delivery Address on My New York Times Subscription? to try to help. It takes time to get through these steps according to other users, including time spent working through each step and contacting New York Times if necessary. Best of luck and please let us know if you successfully resolve your issue with guidance from this page.
Why does GetHuman Write How-to Guides for New York Times Problems?
GetHuman has been working for over 10 years on sourcing information about big organizations like New York Times in order to help customers resolve customer service issues faster. We started with contact information and fastest ways to reach a human at big companies. Particularly ones with slow or complicated IVR or phone menu systems. Or companies that have self-serve help forums instead of a customer service department. From there, we realized that consumers still needed more detailed help solving the most common problems, so we expanded to this set of guides, which grows every day. And if you spot any issues with our How Do I Change My Delivery Address on My New York Times Subscription? guide, please let us know by sending us feedback. We want to be as helpful as possible. If you appreciated this guide, please share it with your favorite people. Our free information and tools is powered by you, the customer. The more people that use it, the better it gets.