What Questions Should I Ask Spectrum When Shopping for an Internet Provider?
This article outlines a list of questions you should ask Spectrum when shopping for internet service. It goes over tips on how to make sure you are fully engaged with the customer service representative and asking the right questions to make sure the product you get meets your particular needs.
Whether you're moving or just setting up internet service for the first time in your current home, you want to make sure you are getting the best service for your money. If you've decided on Spectrum as your provider, there are a number of questions you will want to ask customer support while shopping for internet service. You can contact customer service and support here to ask these questions and any others you may think of while working with the representative.
What to Ask When You Call Spectrum
What types of services are available in your area? Is it DSL (which is generally the slowest), cable (which is somewhat faster), or fiber-optic (which is usually the best value cost-wise and in efficiency). Ask the customer service representative which of these three Spectrum offers.
What are the plans available in your area? Ask them about the various plans offered for internet service.
What speed internet will best suit your needs? Let the provider know what you intend to use the internet service for so the customer service representative can guide you to the best speed to meet your needs. For example, if you are doing a great deal of gaming, you will need higher speeds than if you are just using it for email.
Is there a data cap? If so, are there penalties for going over that cap and how much are those penalties? Also, ask if the company drops from high-speed to low-speed data if you go over the cap.
Will the price stay the same or will it increase? If you are getting an introductory offer, this is especially important because it will help you budget for the future rate increase.
Can Spectrum guarantee the advertised internet speed? While most providers don't offer guarantees, it is still good to ask. Typically, the provider should be within 80% of the advertised speed at all times.
Are there additional fees for equipment and installation? Does Spectrum also charge a fee to activate the service? Also, ask if any of these fees can be waived.
Can you use your own equipment or do you need to use Spectrum's equipment? The plus side of being able to use your own equipment is reduced fees in equipment rentals from Spectrum. The downside is you often have to do your own troubleshooting rather than rely on the company's tech support for equipment issues.
Does Spectrum offer any special rates for bundling services? If so, how much will it save you in the long run?
Ask if there is a contract? If so, make sure the representative goes over the details of the contract and how much it would cost you if you had to early terminate your service.
When can the internet service be installed?
Does Spectrum contract out installation? This is especially important because it can determine the equipment you will receive with your new service.
Asking these questions when shopping for internet service through Spectrum can save you a headache down the road. You can contact customer support here to get started on setting up your internet service today.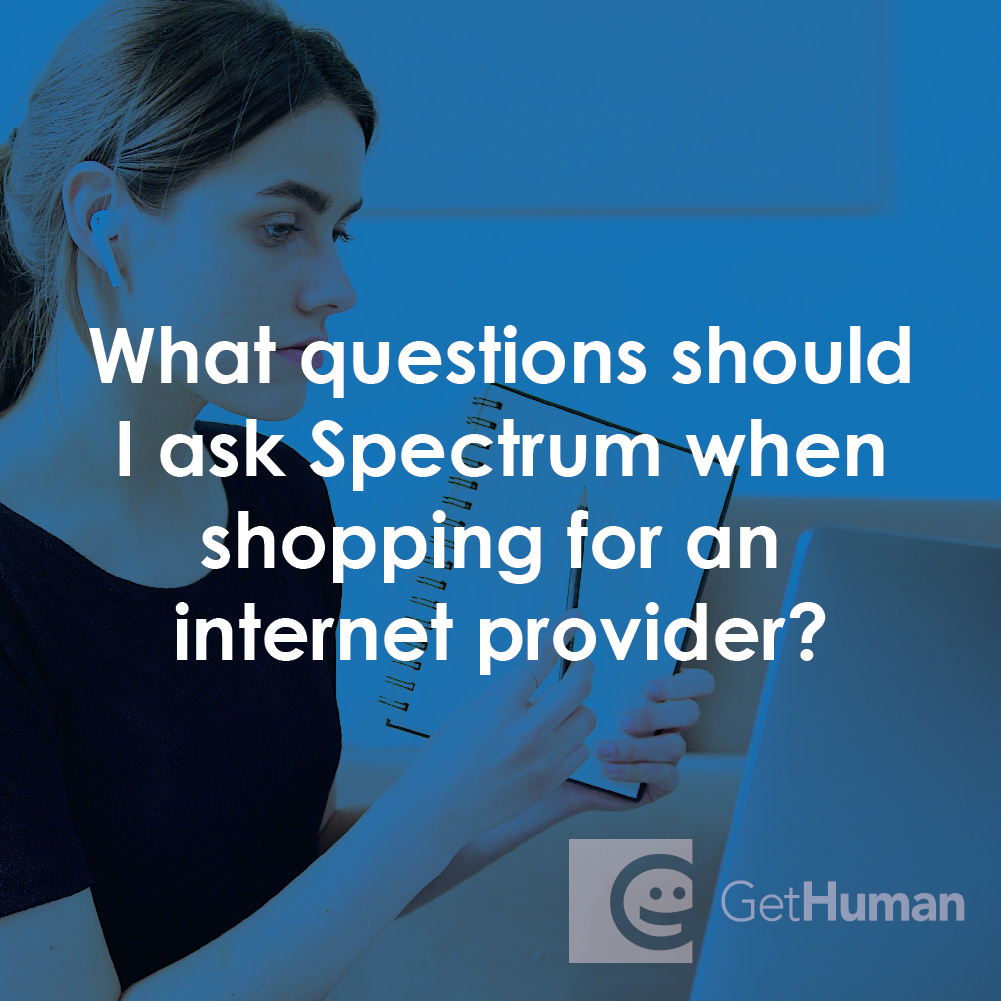 Why Did GetHuman Write "What Questions Should I Ask Spectrum When Shopping for an Internet Provider?"?
After thousands of Spectrum customers came to GetHuman in search of an answer to this problem (and many others), we decided it was time to publish instructions. So we put together What Questions Should I Ask Spectrum When Shopping for an Internet Provider? to try to help. It takes time to get through these steps according to other users, including time spent working through each step and contacting Spectrum if necessary. Best of luck and please let us know if you successfully resolve your issue with guidance from this page.
Why does GetHuman Write How-to Guides for Spectrum Problems?
GetHuman has been working for over 10 years on sourcing information about big organizations like Spectrum in order to help customers resolve customer service issues faster. We started with contact information and fastest ways to reach a human at big companies. Particularly ones with slow or complicated IVR or phone menu systems. Or companies that have self-serve help forums instead of a customer service department. From there, we realized that consumers still needed more detailed help solving the most common problems, so we expanded to this set of guides, which grows every day. And if you spot any issues with our What Questions Should I Ask Spectrum When Shopping for an Internet Provider? guide, please let us know by sending us feedback. We want to be as helpful as possible. If you appreciated this guide, please share it with your favorite people. Our free information and tools is powered by you, the customer. The more people that use it, the better it gets.
Spectrum
Asked a year ago
Updated 2 months ago
Viewed 12,324 times
What customers are saying about this and similar problems
Box outside is open with wires hanging out *This is such a pain in the rear
Why is the audio off sync with all channels? Can't this be fixed, this has been going o...
i paid *** for one month and they said they would send me back **, it has been over a m...
I called last month about my mom not receiving her monthly statements. *Still has not r...
I am trying to transfer my mobile number to spectrum Yesterday when I finally got a per...