Is Suddenlink Internet Service Any Good?
If you live in one of the 17 states served by Suddenlink, you might be considering the company as your new internet service provider. The company offers a respectable variety of internet service plans and competitive rates. Its fees are rather high, though, and it charges more fees than other ISPs. Suddenlink's customer satisfaction ratings are consistently low.
Suddenlink is an internet service provider that offers a wide range of service options. If you are shopping for a new internet service, Suddenlink might be one of the options you are looking into. Read on to discover if Suddenlink is a good choice for you.
Suddenlink's Service Plans
The Internet 20 plan has a download speed of 20 Mbps. It costs $20 per month and has a data cap of 150 GB. This is a bare-bones package for single users with light internet use.
The Internet 100 plan has a download speed of up to 100 Mbps. It costs $35 per month and comes with a 250 GB data cap. This plan supports a few light users and video streaming.
The Internet 400 plan has a download speed of up to 400 Mbps with a cost of $55 per month. There is no data cap on this plan. This plan supports multiple simultaneous devices and gaming.
The 1 Gig Internet plan has speeds up to 940 Mbps. It costs $75 per month and has no data cap. This plan is suitable for large households with heavy internet use and serious gamers.
Suddenlink's Availability
Suddenlink offers internet service in 17 states.
Suddenlink's Fees
Suddenlink has an equipment rental fee of $10 per month. It has an installation fee of $99 and an activation fee of $40. If you want to upgrade your plan, there is a $25 fee. The company also charges a $60 hourly service fee.
Suddenlink's Customer Satisfaction
Suddenlink has consistently low ratings for its customer satisfaction. The American Customer Satisfaction Index gave it a 57 out of 100, the lowest out of all the internet service providers the company rates. Consumer Reports gave it a rating of 56 out of 100, the third worst rating of the internet service providers it tracks.
The Takeaway
Suddenlink offers a wide array of service plans. The cheapest plans are good for the budget conscious, but do not support a lot of use. The better plans do support heavy use, and also have competitive prices. However, the company's fees are exceptionally high. The especially poor customer service ratings indicate that many customers might not end up satisfied with Suddenlink's services.
Contacting Suddenlink
You can contact a Suddenlink customer service representative by phone, help forum, chat, and email.
Help from Real People
We partner with a US-based company with live tech support experts available 24/7. Take advantage of a $1 one-week trial membership and chat with an expert now.
Chat With A Help Expert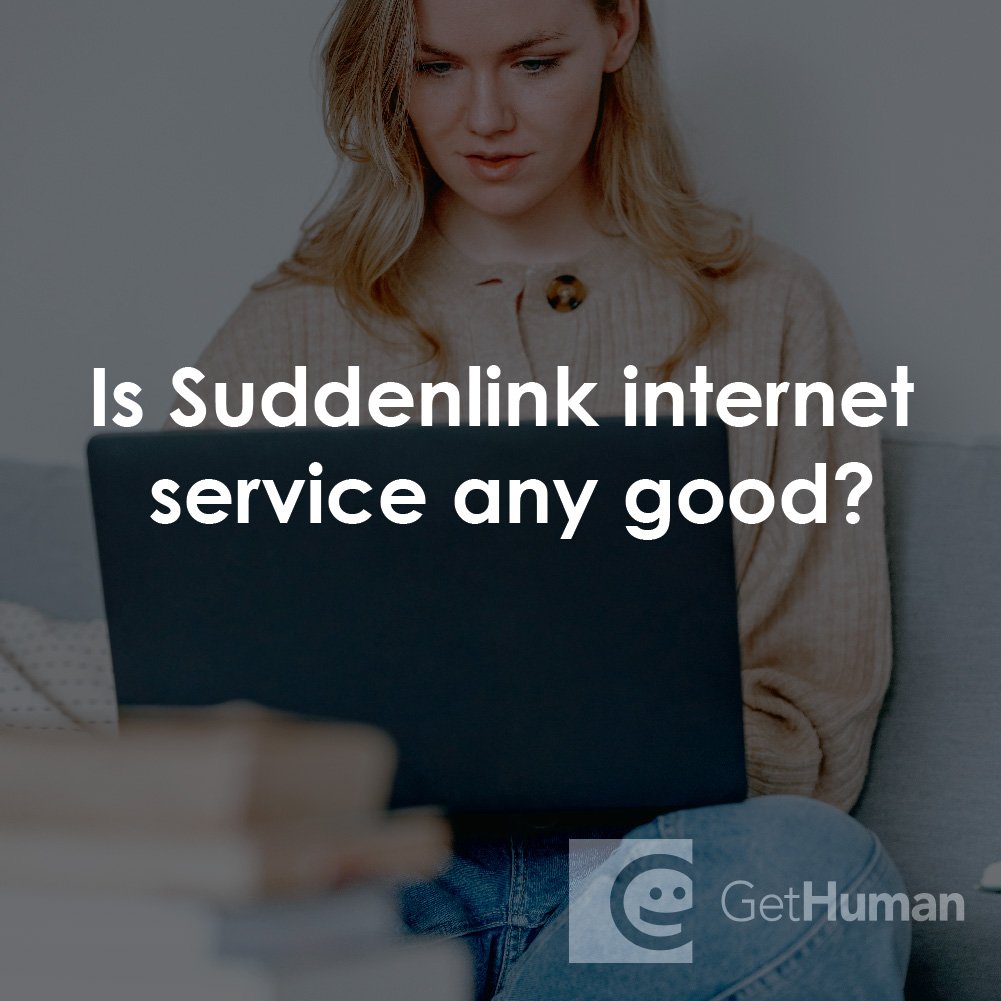 Why Did GetHuman Write "Is Suddenlink Internet Service Any Good?"?
After thousands of SuddenLink customers came to GetHuman in search of an answer to this problem (and many others), we decided it was time to publish instructions. So we put together Is Suddenlink Internet Service Any Good? to try to help. It takes time to get through these steps according to other users, including time spent working through each step and contacting SuddenLink if necessary. Best of luck and please let us know if you successfully resolve your issue with guidance from this page.
Why does GetHuman Write How-to Guides for SuddenLink Problems?
GetHuman has been working for over 10 years on sourcing information about big organizations like SuddenLink in order to help customers resolve customer service issues faster. We started with contact information and fastest ways to reach a human at big companies. Particularly ones with slow or complicated IVR or phone menu systems. Or companies that have self-serve help forums instead of a customer service department. From there, we realized that consumers still needed more detailed help solving the most common problems, so we expanded to this set of guides, which grows every day. And if you spot any issues with our Is Suddenlink Internet Service Any Good? guide, please let us know by sending us feedback. We want to be as helpful as possible. If you appreciated this guide, please share it with your favorite people. Our free information and tools is powered by you, the customer. The more people that use it, the better it gets.