How Do I Find My Checking Account and Routing Number with Turbotax?
Tax filing can be a hectic process, mainly if you make the mistake of providing the wrong checking account and routing numbers. Therefore, the customer help desk at TurboTax has created this guide to shed more light on what TurboTax is, how it works, and how customers can view or confirm their checking account and routing numbers before or after filing their tax returns.
A market leader in its product niche, TurboTax is a premium software package produced by Intuit that offers comprehensive and easy to use American income tax preparation solutions. Created in 1984 by Chipsoft and sold to Intuit in 1993, TurboTax has been a top choice for investors, self-employed individuals, renters, simple filers, and homeowners in need of assistance filing their tax returns.
It works with an interview model, whereby the application asks you easy-to-answer questions regarding your life that may affect your tax situation. For instance, you may be requested to disclose whether or not you have a family or children.
Depending on your answer, the software fills tax preparation forms relevant to your situation in the background. Each answer you give provides a clear sense of direction to the application on the types of deductions and credits to look for, and it determines what questions you need to answer as the process continues. To get started, you may only need a working email address and to answer a few questions, and your TurboTax account could be up and running in no time.
Additionally, your W-2 or 1099 forms may not be much of a prerequisite since the software can directly import these documents from its roster of over one million participating financial institutions and employers.
Customers with more complex tax preparation needs may be required to produce additional documents such as mortgage statements and comprehensive financial details. However, with TurboTax, your tax preparation progress is saved as you go, which allows you to finish the return filing process at any time.
With this in mind, if you could be wondering how you can find your checking account and routing number with TurboTax, worry no more. You can follow the steps outlined below to guide you along the way.
How do I find my checking account and routing number with TurboTax?
If you're yet to e-file or mail your tax returns, you can view your checking account and routing number by visiting the "File" section to enter, review, or update your financial details. You can follow the steps below to guide you along the way:
Log in to your TurboTax portal.
Go into your tax timeline.
Click on the "File" tab.
While here, you'll encounter a three-step process.
Select the option labeled "Start/Revisit."
Move to "Step 2".
From here, you can view the banking information you initially provided.
If you'd already completed your return filing process, you could follow the guidelines below to view your checking account and routing number:
Sign in to your TurboTax account, if you haven't already.
On the "Tax Home" page, scroll down to the option that reads "Add a State." It's worth noting that you're not adding the state to access your worksheets and tax forms.
On the menu on your left side, click on "Tax Tools."
Select "Print Center."
On the TurboTax Print Center webpage, choose "Print, save or preview this year's return."
On the next Print Center page, choose the "2019 federal returns" page, and don't forget to "Include Government and TurboTax Worksheets," which is optional.
Select "View or Print" forms.
Once you've done this, you can find your checking account and routing number information on the first page. This information will be right next to the "Balance Due/Refund" section of the "Electronic Filing Instructions for your 2019 Federal Tax Return" document.
If you're having trouble making out which number represents your checking account and which one is the routing number, you should know that the routing number will always be nine digits that begin with a zero, one, two, or three. You only have to look at the bottom left corner of your check.
Besides that, when entering the routing number, ensure you provide just the nine digits without any additional spaces, characters, or punctuation marks that may appear before the routing number. In unorthodox situations, you may find an ACH number, otherwise known as the Automated Clearing House Number, which you can use as your routing number.
Alternatively
You can contact your banking service provider or visit their website to retrieve your routing number. If you may be having several routing number options to choose from, choose the one related to your direct deposit account. Moreover, you can always call TurboTax's customer support team for further assistance.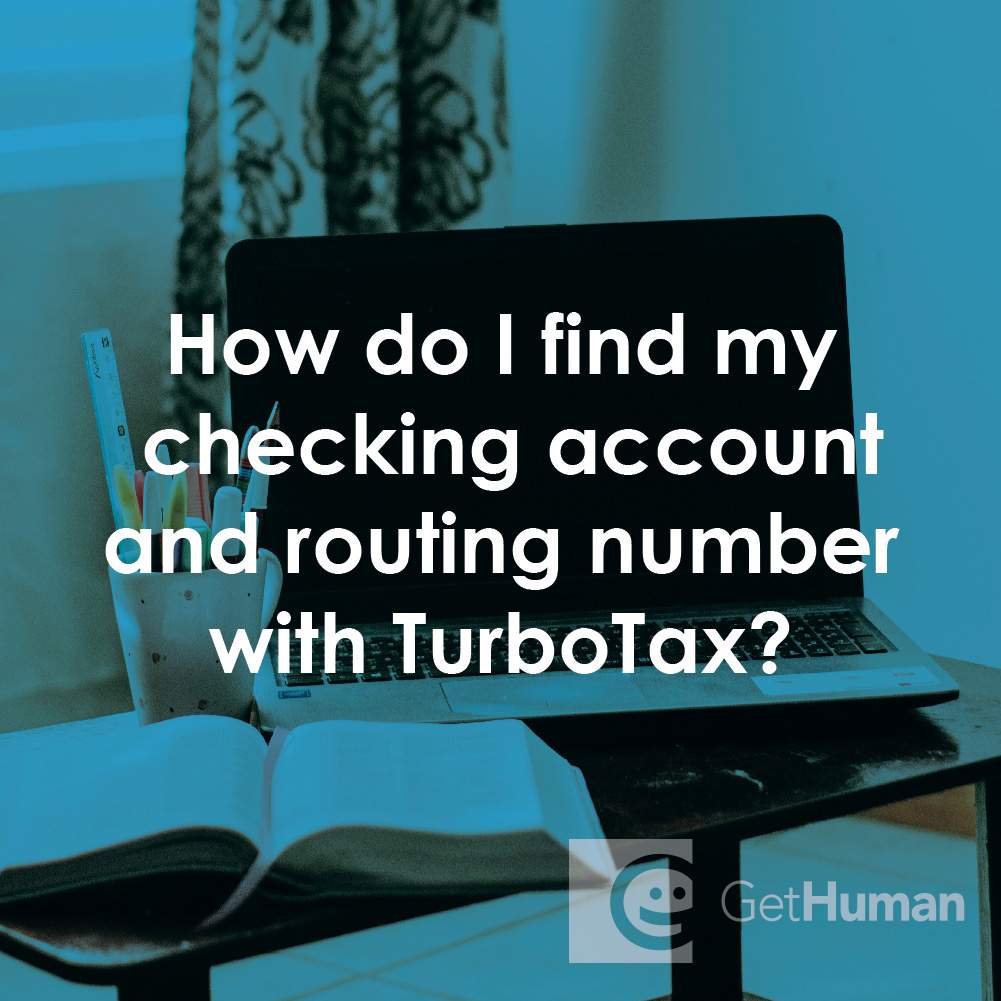 Why Did GetHuman Write "How Do I Find My Checking Account and Routing Number with Turbotax?"?
After thousands of TurboTax customers came to GetHuman in search of an answer to this problem (and many others), we decided it was time to publish instructions. So we put together How Do I Find My Checking Account and Routing Number with Turbotax? to try to help. It takes time to get through these steps according to other users, including time spent working through each step and contacting TurboTax if necessary. Best of luck and please let us know if you successfully resolve your issue with guidance from this page.
Why does GetHuman Write How-to Guides for TurboTax Problems?
GetHuman has been working for over 10 years on sourcing information about big organizations like TurboTax in order to help customers resolve customer service issues faster. We started with contact information and fastest ways to reach a human at big companies. Particularly ones with slow or complicated IVR or phone menu systems. Or companies that have self-serve help forums instead of a customer service department. From there, we realized that consumers still needed more detailed help solving the most common problems, so we expanded to this set of guides, which grows every day. And if you spot any issues with our How Do I Find My Checking Account and Routing Number with Turbotax? guide, please let us know by sending us feedback. We want to be as helpful as possible. If you appreciated this guide, please share it with your favorite people. Our free information and tools is powered by you, the customer. The more people that use it, the better it gets.