How Much Is My Driver Referral Bonus on Uber?
Uber uses referral bonuses to encourage people to sign up as new Uber drivers. This bonus varies from place to place. To determine what it is, sign up or refer new drivers with a referral code. You can get help on the Uber online help forum.
Uber encourages people to become Uber drivers by offering referral bonuses. If a current driver refers someone to Uber and that person completes their first trip within a certain timeframe, both the referring driver and the new driver will receive a bonus. If you want to know what your Uber driver referral bonus is, keep on reading.
How the Driver Referral Bonus Works
For a referral bonus, give your referral code to somebody interested in becoming a driver. As long as they use your referral code when they sign up to become a driver, you will receive a referral bonus if they complete the required number of trips within the required time.
If you aren't yet an Uber driver, find someone who is and ask for their referral code. Even if you don't know any Uber drivers, you can probably find one with a code online. Use the code when you sign up to become a driver. You'll be given a goal of a certain number of trips to make and a goal of when to make them by. Once you make them, you will receive your bonus.
How Much Is the Uber Driver Referral Bonus?
This is not an easy question to answer. It varies depending on the country, state and city you drive in. Uber tailors the bonus to the local driver situation and economy, paying out more when new drivers are urgently needed and less when they are not.
How to Refer Someone to Uber as a New Driver
To refer someone, use these instructions:
Look up your driver referral code. You can find it on the Driver App or your driver's dashboard.
Open the Driver App, if it isn't already open from the previous step.
Tap on the menu icon.
Tap on Earnings.
Tap on Invite & Earn.
Tap on Learn More.
Tap on Select.
Choose a contact to send an invitation and your code to.
Tap on Send Invites.
How to Sign Up as an Uber Driver
To sign up, use these instructions:
Take a clear picture of your driver's license.
Go to Uber's website.
Click on Sign Up to Drive, located in the "Get in the driver's seat and get paid" section.
Enter your contact information and everything else needed to create your driver profile.
Upload a picture of your driver's license.
Enter the background check information.
Enter the information for your vehicle.
Enter the driver referral code you were given.
Take your vehicle for a vehicle inspection at any qualifying local inspection station.
Follow any further instructions to finish signing up.
Contacting Uber
If you have any questions about the Uber driver referral bonus, or if you need help either signing up or referring someone, you can ask an Uber representative for assistance. You can find one on the Uber help forum. Unfortunately, there is no customer service phone number and no other online contact option.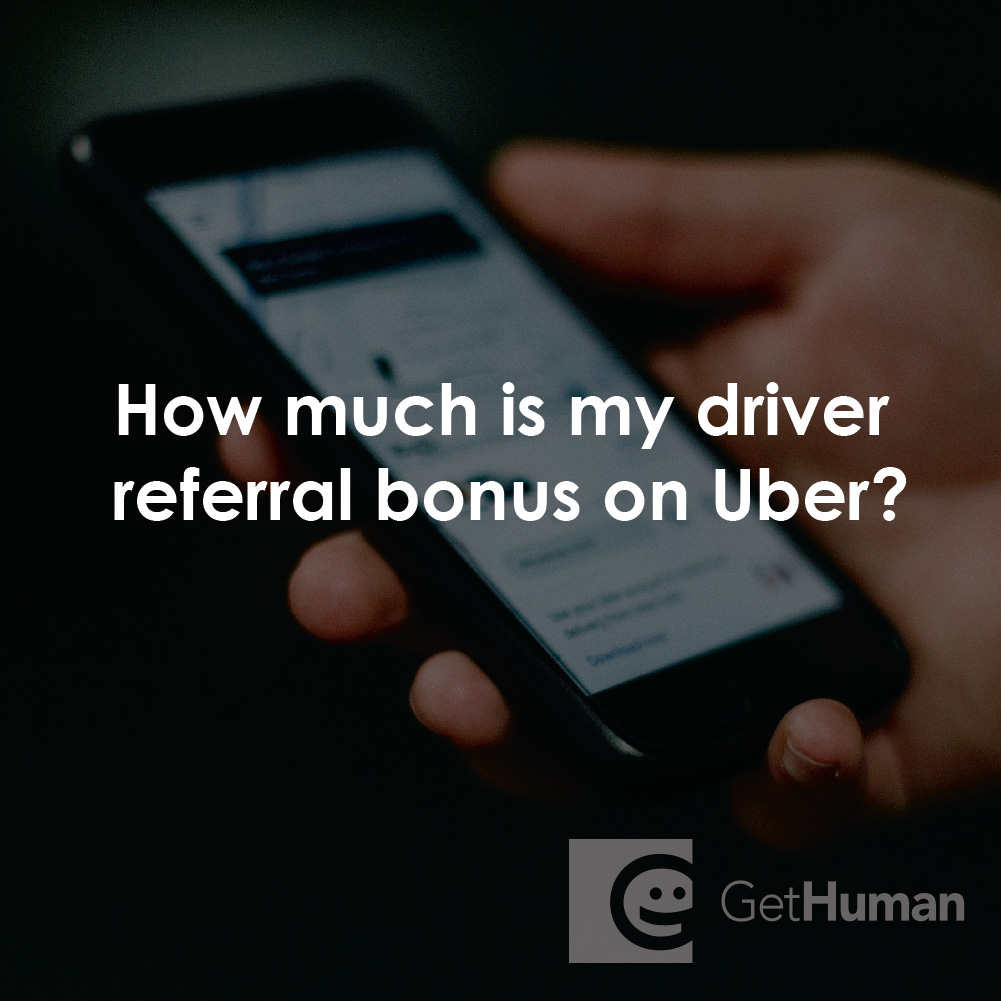 Why Did GetHuman Write "How Much Is My Driver Referral Bonus on Uber?"?
After thousands of Uber customers came to GetHuman in search of an answer to this problem (and many others), we decided it was time to publish instructions. So we put together How Much Is My Driver Referral Bonus on Uber? to try to help. It takes time to get through these steps according to other users, including time spent working through each step and contacting Uber if necessary. Best of luck and please let us know if you successfully resolve your issue with guidance from this page.
Why does GetHuman Write How-to Guides for Uber Problems?
GetHuman has been working for over 10 years on sourcing information about big organizations like Uber in order to help customers resolve customer service issues faster. We started with contact information and fastest ways to reach a human at big companies. Particularly ones with slow or complicated IVR or phone menu systems. Or companies that have self-serve help forums instead of a customer service department. From there, we realized that consumers still needed more detailed help solving the most common problems, so we expanded to this set of guides, which grows every day. And if you spot any issues with our How Much Is My Driver Referral Bonus on Uber? guide, please let us know by sending us feedback. We want to be as helpful as possible. If you appreciated this guide, please share it with your favorite people. Our free information and tools is powered by you, the customer. The more people that use it, the better it gets.