Why Does My Uber Driver Application Say "Documents Pending"?
The average Uber approval process for drivers usually takes no more than two days. However, there could be various reasons why documents remain pending. Still, the Uber review team must evaluate the issue if an application remains in the pending stage. If you're still waiting for a progress update, consider a few possibilities that could extend the waiting period.
Typically, Uber approves driver documentation within 48 hours. However, in some cases, the process can take longer, depending on an applicant's circumstance. Read below to find out why documents remain pending beyond the typical approval time frame.
What Happens After You Submit Your Application?
Becoming an Uber driver isn't as easy depicted in advertisements or online reviews. Also, not everyone understands how the application system works. After your documents pass the submission stage, your pending status becomes active, and your application is subject to review. Although the procedure is the same for every applicant, others expect a fast turnaround. Consequently, the result can be unpredictable and confusing. Where one individual can face an extended wait, another is approved quickly without incident.
If you find that your application is still under review, consider a few common factors below.
Unverifiable Documentation
Some individuals believe that a valid state-issued driver's license, passport, or non-driver photo ID guarantees approval. However, the process requires a personal analysis, such as a background check. The procedure is necessary to check an applicant's profile, but it also allows the review team to determine their legitimacy in the United States.
Negative Driver Status
Uber is adamant about only accepting contractors who obey traffic laws and regulations. Therefore, it expects its drivers to exhibit professional conduct at all times. On the other hand, numerous complaints about an individual's driving history will result in an investigation.
If Uber finds any potential liabilities, the review team may reject them without notice. In contrast, if you are an exceptional driver with no recent violations or any revocations, you'll receive priority over individuals with a poor record.
Technical Issues
While company apps are convenient, errors in the system can make them problematic. Unfortunately, the situation is out of an Uber driver applicant's control. Therefore, their best bet is to file a complaint if their progress status fails to change. Overall, technical glitches are often temporary and rarely compromise submissions.
Extended Background Check
Uber performs a background check annually at a minimum to maintain safety standards. The procedure is mandatory if you want to remain a driver and retain access to the Uber app. In some cases, the company may also request additional screenings during the term of your relationship with Uber. Also, while waiting for an Uber documentation response, you may have to allow at least two weeks to receive an email.
If you submit expired documentation, have an arrest record, or have driving restrictions, Uber may contact you. While a long wait doesn't necessarily mean an impending rejection, it's a cause for concern. In some cases, Uber only contacts applicants to confirm approval but doesn't about unqualified submissions.
How To Contact the Uber Review Team
Unfortunately, Uber doesn't have an accessible phone number or a live chat option. Therefore, the best method of contact is the company's help desk. When using the contact form, ensure you detail your situation clearly.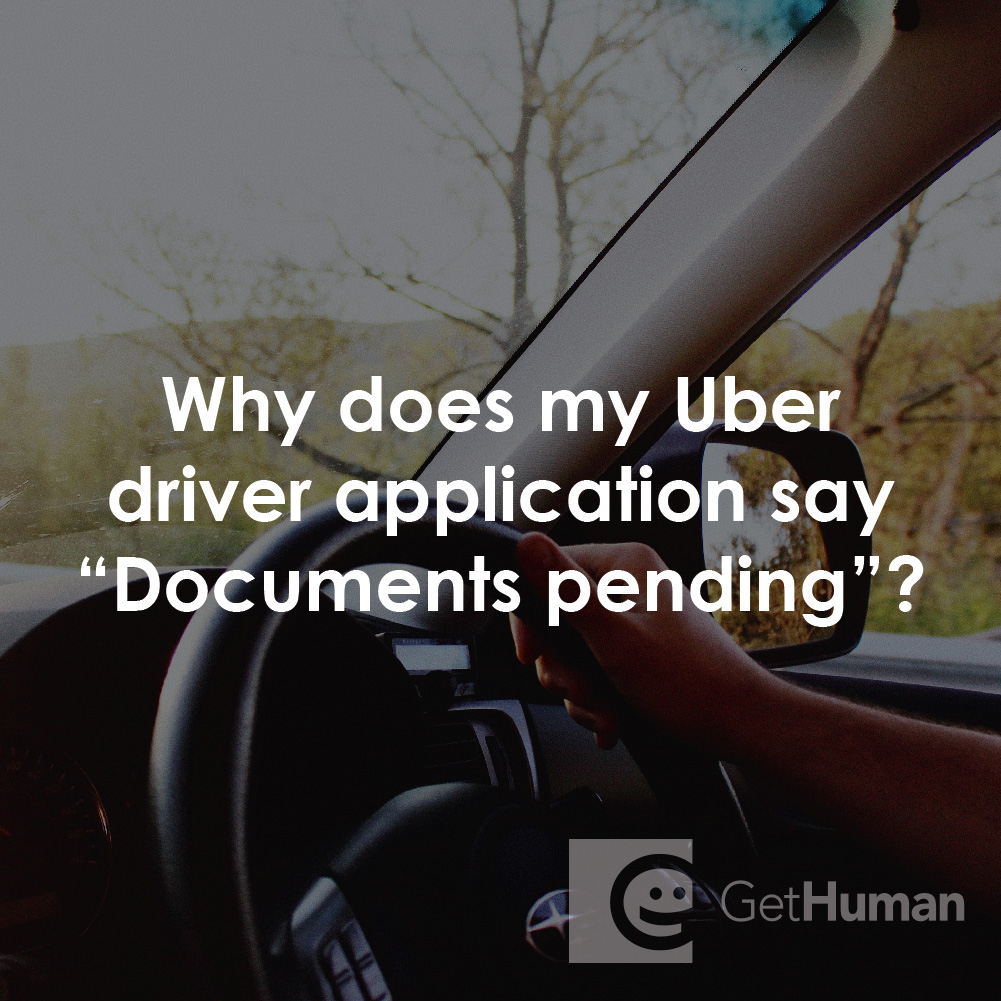 Why Did GetHuman Write "Why Does My Uber Driver Application Say "Documents Pending"?"?
After thousands of Uber customers came to GetHuman in search of an answer to this problem (and many others), we decided it was time to publish instructions. So we put together Why Does My Uber Driver Application Say "Documents Pending"? to try to help. It takes time to get through these steps according to other users, including time spent working through each step and contacting Uber if necessary. Best of luck and please let us know if you successfully resolve your issue with guidance from this page.
Why does GetHuman Write How-to Guides for Uber Problems?
GetHuman has been working for over 10 years on sourcing information about big organizations like Uber in order to help customers resolve customer service issues faster. We started with contact information and fastest ways to reach a human at big companies. Particularly ones with slow or complicated IVR or phone menu systems. Or companies that have self-serve help forums instead of a customer service department. From there, we realized that consumers still needed more detailed help solving the most common problems, so we expanded to this set of guides, which grows every day. And if you spot any issues with our Why Does My Uber Driver Application Say "Documents Pending"? guide, please let us know by sending us feedback. We want to be as helpful as possible. If you appreciated this guide, please share it with your favorite people. Our free information and tools is powered by you, the customer. The more people that use it, the better it gets.