Does Walmart Pay for Shipping on Returns or Exchanges?
You may get free shipping for returns or exchanges on Walmart. You need to contact the customer service team first. They will send you an email. Open the link and print the shipping label. Return the item in its original packaging with the label on it. After inspecting it, they will send you a refund or replacement. If you have any issues with your Walmart returns or exchanges, you may contact the customer service team for help. You may reach them on the phone, email, or the help forum.
Does Walmart Pay for Shipping on Returns or Exchanges?
If you are not completely satisfied with your Walmart order, you may return or exchange it. You may do so within 90 days unless your order is an exception. You may return your Walmart order by mail for free, in your local store, or through a scheduled pickup in your home.
You may receive a refund for your purchase and the relevant fees if your order is eligible. All you need is your Walmart order number and receipt. Your refund will be sent to the original method of payment.
If you are eligible for a refund, you may receive it within five days. If you initiated your return in-store, your refund will be processed as soon as the item reaches the store. If you initiated a return online, your refund will be processed once the carrier processes the return package. If you experience any challenges with your refunds, you may ask for help from the support team.
Walmart Standard Returns
Walmart does not allow returns on certain items. However, you can return almost everything that they sell. If you are unsure about your items' eligibility for returns, you may contact the customer service agents for help. Your purchase history on Walmart's website shows the last eligible date for returning or replacing an order. You should, however, keep track of your receipts and manufacturer packaging for at least 90 days.
You do not need to incur the costs of shipping. Follow these steps for free shipping:
Reach out to the customer service team and ask for your return shipping label
They will send you an email. Open it, and you will find a link with the shipping label. Print it and let the customer service team know
Package the item you wish to return in its original box
Put on the label and mail the item back
After receiving your returned item, Walmart will inspect it. They may send a replacement or refund depending on your needs
Contacting the Support Team
There are lots of ways to contact Walmart if you need help. The best option is contacting them on the phone. You get the chance to speak directly with an agent. They will listen to you and direct you to the most relevant solution. Phone support is the only way to speak with an agent.
If you don't necessarily wish to speak with an agent, consider seeking support on email. Email support is a great option as it allows you to retain the details of your interaction with the customer service team.
The Walmart help forums are the first support options for most customers. Consider exploring them before trying to contact the support team directly. On the help forums, there are plenty of reminders, suggestions, and tips that may help. You get the chance to learn from both the customer service team and the support agents. If you end up going back and forth with a customer support agent, they may suggest that you contact them on the phone or email.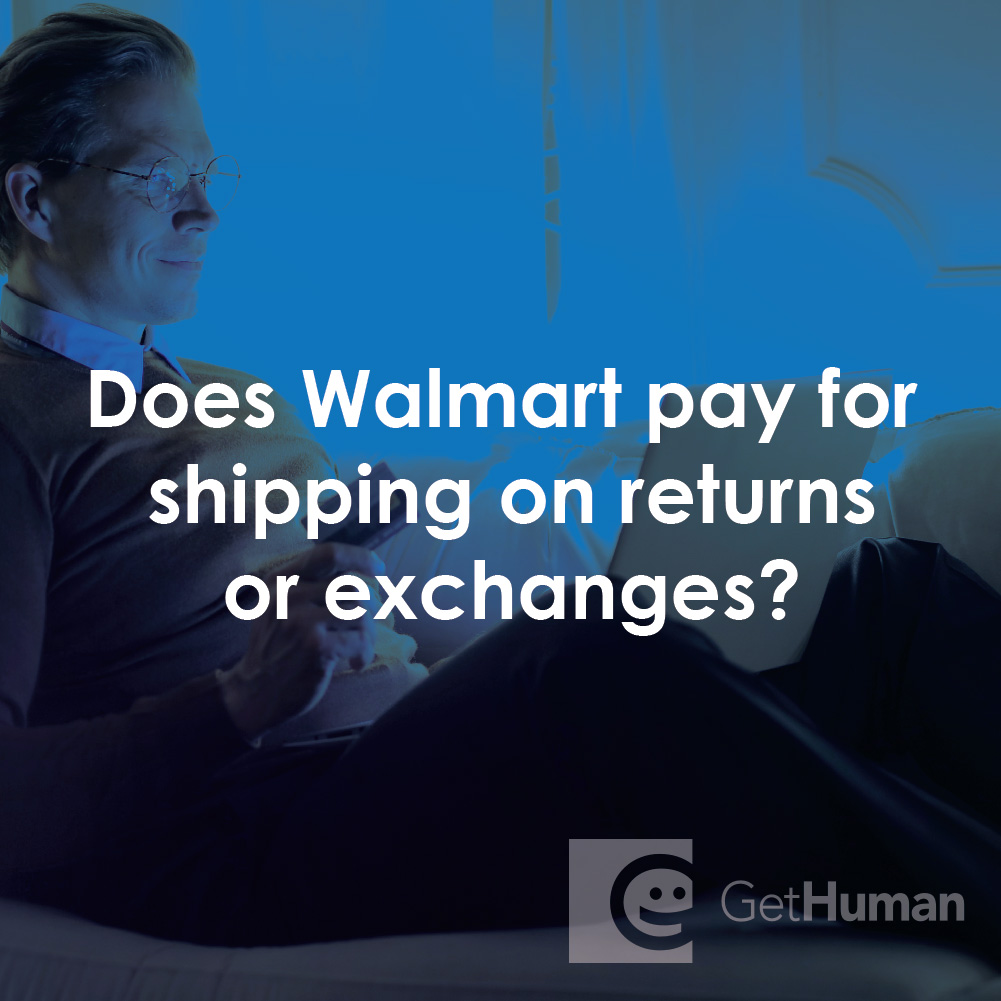 Why Did GetHuman Write "Does Walmart Pay for Shipping on Returns or Exchanges?"?
After thousands of WalMart customers came to GetHuman in search of an answer to this problem (and many others), we decided it was time to publish instructions. So we put together Does Walmart Pay for Shipping on Returns or Exchanges? to try to help. It takes time to get through these steps according to other users, including time spent working through each step and contacting WalMart if necessary. Best of luck and please let us know if you successfully resolve your issue with guidance from this page.
Why does GetHuman Write How-to Guides for WalMart Problems?
GetHuman has been working for over 10 years on sourcing information about big organizations like WalMart in order to help customers resolve customer service issues faster. We started with contact information and fastest ways to reach a human at big companies. Particularly ones with slow or complicated IVR or phone menu systems. Or companies that have self-serve help forums instead of a customer service department. From there, we realized that consumers still needed more detailed help solving the most common problems, so we expanded to this set of guides, which grows every day. And if you spot any issues with our Does Walmart Pay for Shipping on Returns or Exchanges? guide, please let us know by sending us feedback. We want to be as helpful as possible. If you appreciated this guide, please share it with your favorite people. Our free information and tools is powered by you, the customer. The more people that use it, the better it gets.