How Do I Report a Fake Yelp Account?
If you are a Yelper or a business owner with your establishment listed on Yelp, you know fake reviews can cause a lot of damage to a person and their livelihood. You can report fake profiles online or through the mobile app to have them removed from the Yelp community. Reviews that violate content guidelines can also be removed to help maintain the integrity of Yelp's content.
Yelp is a great way for consumers to find out what others think of a business, and it's a useful tool for businesses to see what is going well and where improvements need to be made. For the information to be helpful, however, it needs to come from legitimate sources. Fake accounts can hurt businesses and mislead consumers, so what do you do when you find a fake Yelp account? How do you report it? You can learn more about Yelp and its features by contacting customer support here, and below are steps you can take to report and remove fake accounts.
Reporting a Fake Account
Business owners and reviewers can report fake accounts on Yelp either via computer or mobile device.
Business Owners
If you are a business owner and you need to report a fake Yelp account, you can do so by completing the steps listed below.
Locate the review of your business.
Click on the three dots beside the review.
Select "Report Review."

The moderators will review your report to see if the matter violates content guidelines, and you will be notified of the decision. The process can take several days to complete.
Yelp Reviewers (Yelpers)
If you are a Yelp reviewer and come across a fake profile, you also have the option to report the matter. To report a fake profile, do these steps:
Open Yelp in your browser or on your mobile device and log into your account.
If it is a fake business account, click the three dots beside the business name and choose "Report" from the options provided.
For fake user profiles, click the flag icon and select "Report Review."
Your report will be reviewed by moderators who will get back to you once the matter is resolved. This can take several days to complete.
Content Guidelines
It's important to understand the Yelp content guidelines as well. Content guidelines on Yelp include:
Contributions should be relevant. In other words, a review of an eating establishment should focus on the food, service and other important features of the restaurant such as cleanliness or parking availability instead of political rants or harassment of others.
Content should not use abusive language in the review.
Reviews should be unbiased. If you have a vested interest in a business (either as the owner, an employee, or friend or family of the owner) then leave the reviews to those who do not have the same vested interest.
Yelp is not a platform for doxxing others. Private information should never be shared on Yelp.
Both businesses and Yelpers can report fake profiles for removal from the platform. For more information or assistance, contact Yelp user support here.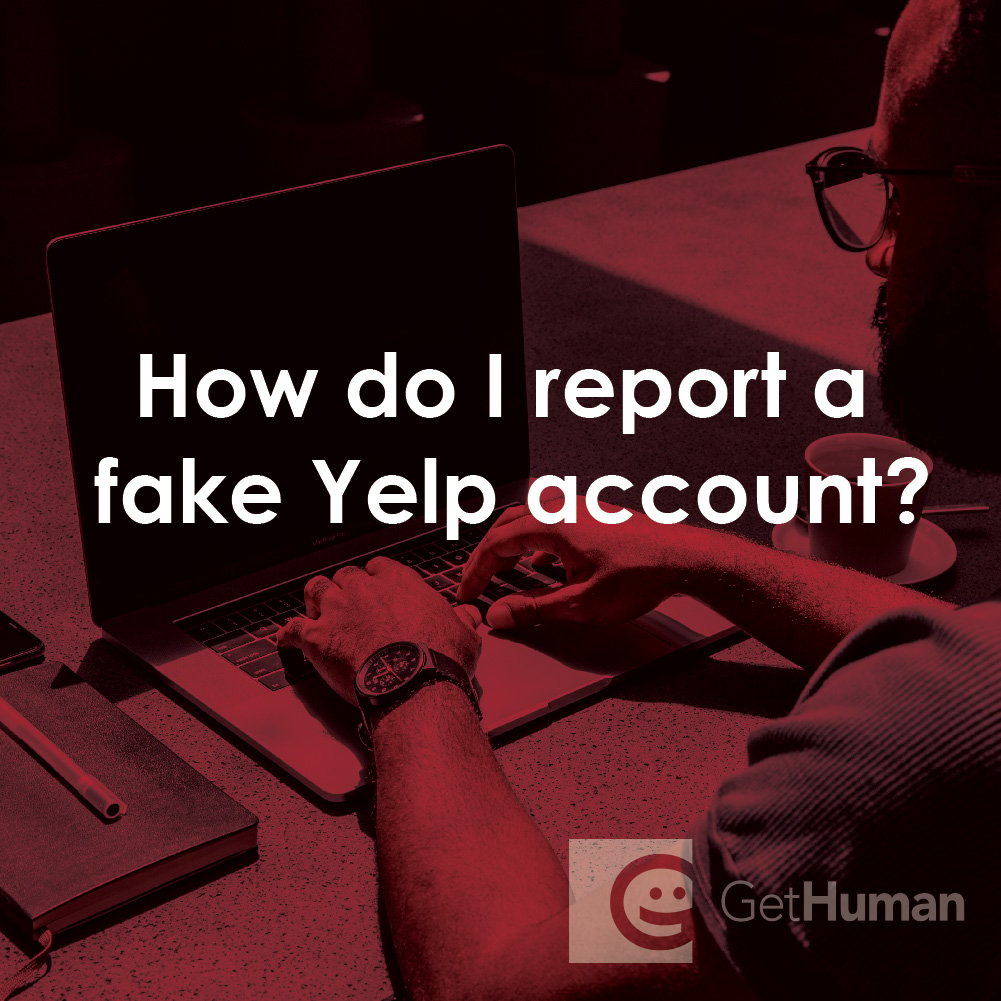 Why Did GetHuman Write "How Do I Report a Fake Yelp Account?"?
After thousands of Yelp customers came to GetHuman in search of an answer to this problem (and many others), we decided it was time to publish instructions. So we put together How Do I Report a Fake Yelp Account? to try to help. It takes time to get through these steps according to other users, including time spent working through each step and contacting Yelp if necessary. Best of luck and please let us know if you successfully resolve your issue with guidance from this page.
Why does GetHuman Write How-to Guides for Yelp Problems?
GetHuman has been working for over 10 years on sourcing information about big organizations like Yelp in order to help customers resolve customer service issues faster. We started with contact information and fastest ways to reach a human at big companies. Particularly ones with slow or complicated IVR or phone menu systems. Or companies that have self-serve help forums instead of a customer service department. From there, we realized that consumers still needed more detailed help solving the most common problems, so we expanded to this set of guides, which grows every day. And if you spot any issues with our How Do I Report a Fake Yelp Account? guide, please let us know by sending us feedback. We want to be as helpful as possible. If you appreciated this guide, please share it with your favorite people. Our free information and tools is powered by you, the customer. The more people that use it, the better it gets.