How Do I Appeal a Ban to Youtube?
If your YouTube account was terminated, you can appeal the termination. Terminations for violations of the YouTube community guidelines or terms of service can be appealed with the Google appeal form. Terminations for copyright violations require you to file a counter notification and send it by mail, email, or fax.
If you had your YouTube account terminated, you might want to file an appeal. Depending on the circumstances of your case, there are potential grounds on which you could successfully overturn the ban. This article will teach you what you need to know.
Reasons Why Your Account Can Be Terminated
Your account could be terminated for repeated violations of YouTube's terms of service or community guidelines. This includes, but is not limited to, posting hate speech and making abusive or harassing videos or comments. YouTube may also terminate your account for a single severe violation, such as posting pornography, spam, or engaging in predatory behavior. YouTube will also shut down channels dedicated to policy violations, including but not limited to impersonation and hate speech. Copyright infringement can also lead to account termination.
You should have received an email about the reason for your account's termination. You may be able to argue that any accusations of specific violations of the terms of service or the community guidelines were mistaken. If your account was terminated for copyright violation, you might be able to argue that you had legal ownership of the material or that you used it as a parody or teaching aid as a part of fair use.
How to Appeal a Termination for Violations of Community Guidelines or Terms of Service
Using YouTube's appeal form, you can appeal your account termination for violation of community guidelines or terms of service.
You can find the appeal form here.
Enter your personal information.
Enter your account information.
Enter your contact information.
Enter the URL of your banned channel.
Explain why you think the termination was made in error in the text field at the bottom. Keep it brief. Refer to specific parts of the community guidelines.
Click on the Submit button.
Wait. YouTube may contact you with requests for further information or to have a chat or call with a YouTube representative.
How to Appeal a Termination for Copyright Violations
You should appeal by filing a counter-notification if your account was violated for copyright violations. However, since you have been banned, you cannot access the usual form you need. Instead, you need to prepare a printed document containing the following information:
Your full legal name
Your physical address
Your email address
Your phone number
Links to the disputed content, starting with www
This legal statement: "I consent to the jurisdiction of the Federal District Court for the district in which my address is located, or if my address is outside of the United States, the judicial district in which YouTube is located, and will accept service of process from the claimant."
This legal statement: "I swear, under penalty of perjury, that I have a good faith belief that the material was removed or disabled as a result of a mistake or misidentification of the material to be removed or disabled."
A statement to the claimant: Something explaining why the content removal was a mistake.
Your signature or electronic signature
Once you have finished the document, email it to copyright@youtube.com (in the body of the email), fax it to 650 872 8513 or mail it to:
DMCA Complaints
YouTube (Google LLC)
901 Cherry Ave.
San Bruno, CA 94066
USA
Contacting YouTube
If you have any questions about the progress of your appeal, call a YouTube representative for help, or talk to one on the YouTube help forum.
Help from Real People
We partner with a US-based company with live tech support experts available 24/7. Take advantage of a $1 one-week trial membership and chat with an expert now.
Chat With A Help Expert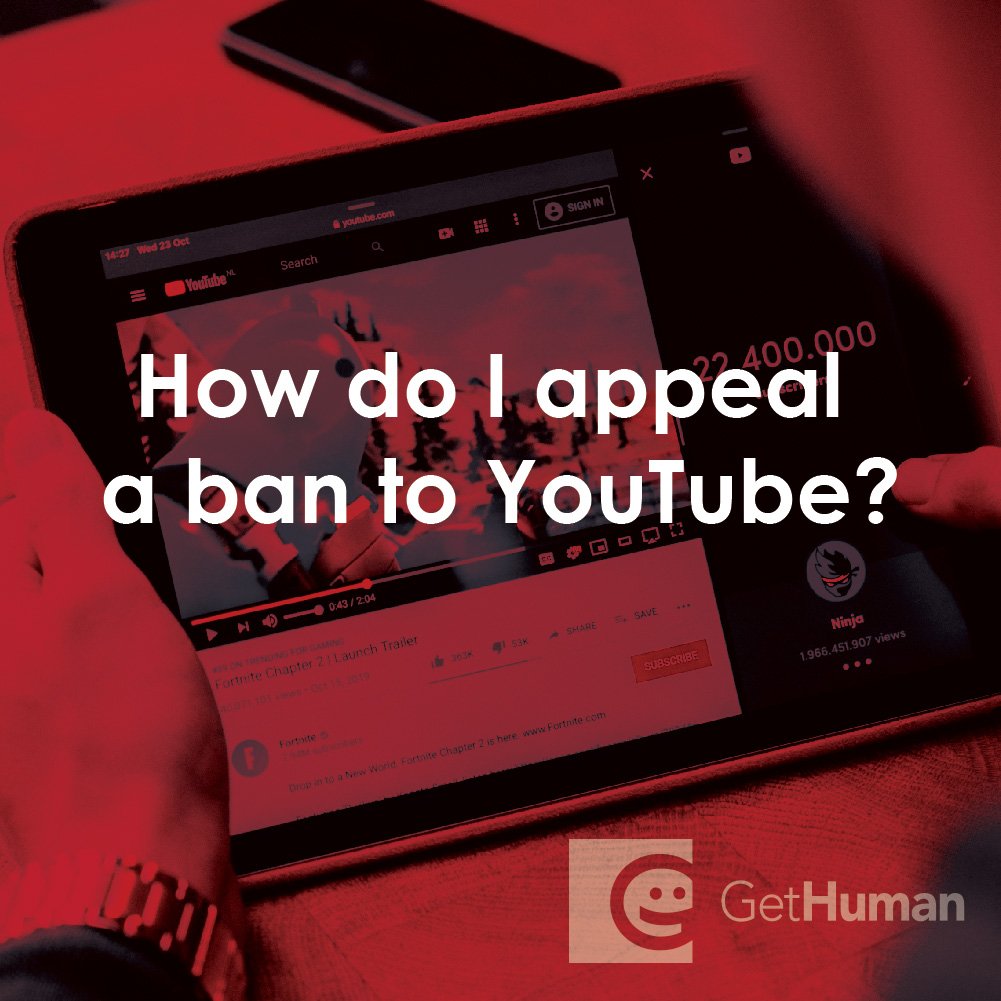 Why Did GetHuman Write "How Do I Appeal a Ban to Youtube?"?
After thousands of YouTube customers came to GetHuman in search of an answer to this problem (and many others), we decided it was time to publish instructions. So we put together How Do I Appeal a Ban to Youtube? to try to help. It takes time to get through these steps according to other users, including time spent working through each step and contacting YouTube if necessary. Best of luck and please let us know if you successfully resolve your issue with guidance from this page.
Why does GetHuman Write How-to Guides for YouTube Problems?
GetHuman has been working for over 10 years on sourcing information about big organizations like YouTube in order to help customers resolve customer service issues faster. We started with contact information and fastest ways to reach a human at big companies. Particularly ones with slow or complicated IVR or phone menu systems. Or companies that have self-serve help forums instead of a customer service department. From there, we realized that consumers still needed more detailed help solving the most common problems, so we expanded to this set of guides, which grows every day. And if you spot any issues with our How Do I Appeal a Ban to Youtube? guide, please let us know by sending us feedback. We want to be as helpful as possible. If you appreciated this guide, please share it with your favorite people. Our free information and tools is powered by you, the customer. The more people that use it, the better it gets.