Can You Open Another Ebay Account After Suspension?
eBay suspensions can occur for a variety of reasons. Users struggling with holds, restrictions, or suspensions need to identify why the issue happened in the first place in order to respond appropriately. This article provides expectations regarding different kinds of suspensions and addresses the idea of opening a second eBay account.
When eBay suspends an account, it will typically send an email with an explanation of its decision. Common reasons for eBay suspensions include overdue seller fees, reimbursement requests, violations of rules and policies, unverified account information, or the need to update payment information. Many issues can be resolved easily, so it's always worth responding to eBay's requests before attempting to open a second eBay account.
Different Kinds of Suspensions
In order to react properly, it's important to fully understand the severity of the situation and why your account was suspended. Some limitations on eBay are more serious than others.

Holds: eBay places holds on accounts when money is overdue or payment information has expired. The company only performs the hold to ensure it will receive the funds it is owed, and it will generally release the hold once payment is received.
Restrictions: Restrictions are imposed when sellers fall below eBay's performance standards. You may be restricted from selling certain items or have your ranking in listings lowered. There are also buyer activity limits for new buyers. Temporary restrictions might lift with improved feedback on eBay, but some restrictions are permanent.
Suspensions: eBay suspensions are the most drastic punishment and tend to be reserved for users involved in severe policy violations such as fraud or listing illegal items. Temporary suspensions can last seven, 10, or 30 days, but suspensions can also be permanent.
If your account is suspended indefinitely, you'll need to contact eBay support and politely plead your case. If the account cannot be reinstated yet, it's necessary to wait an entire year before approaching eBay again. However, there are no guarantees that the company will ever restore an indefinitely suspended eBay account.
Opening Another eBay Account
eBay will blacklist anyone who creates a second eBay account to bypass a suspension. The company is capable of tracking old users with information from their PC, phone, IP address, mailing address, phone number, business name, and personal name. Since eBay also works closely with Paypal, and Paypal accounts require a verified identity, it's very difficult to trick the system into allowing a second eBay account.
Some users open dozens of fake accounts while trying to outwit eBay's suspension algorithms. While it's technically possible to open another eBay account, it's only a matter of time before the new account is also suspended. In the long run, it's best to address your faults and work with eBay to regain account privileges.
Help from Real People
We partner with a US-based company with live tech support experts available 24/7. Take advantage of a $1 one-week trial membership and chat with an expert now.
Chat With A Help Expert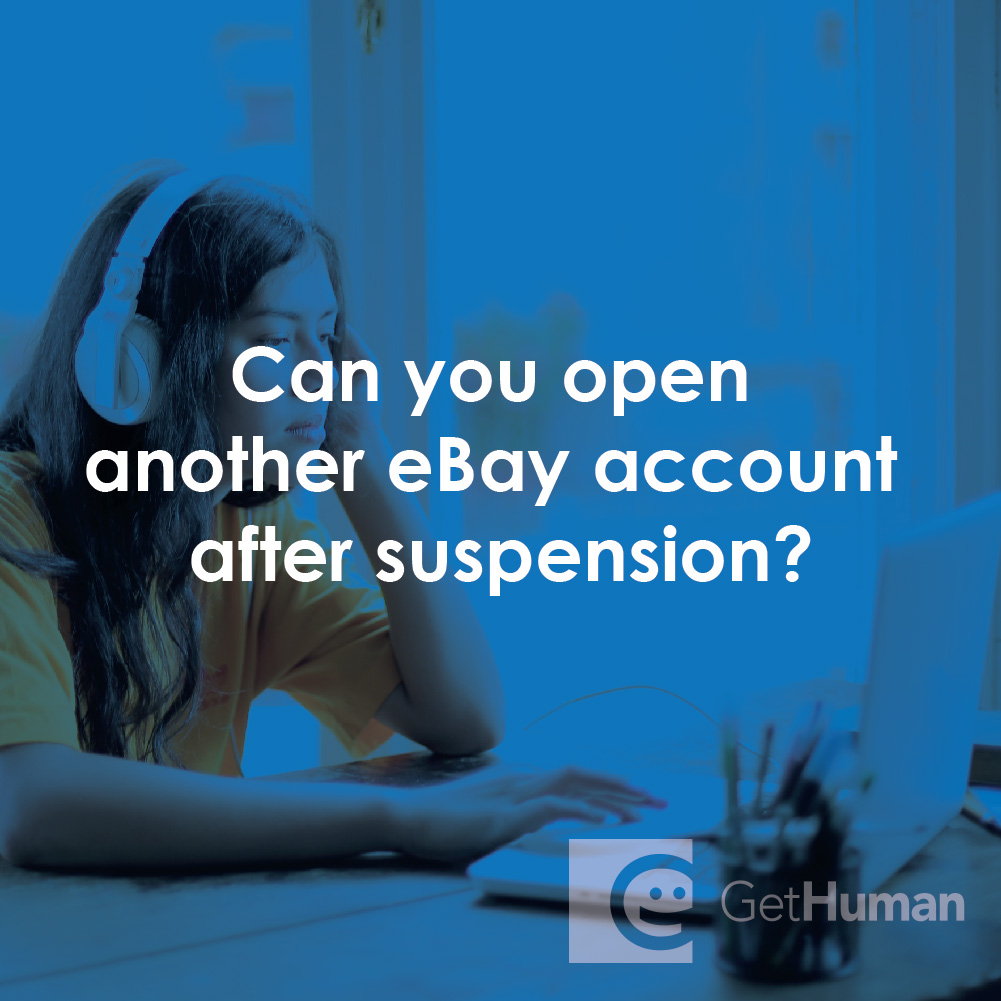 Why Did GetHuman Write "Can You Open Another Ebay Account After Suspension?"?
After thousands of eBay customers came to GetHuman in search of an answer to this problem (and many others), we decided it was time to publish instructions. So we put together Can You Open Another Ebay Account After Suspension? to try to help. It takes time to get through these steps according to other users, including time spent working through each step and contacting eBay if necessary. Best of luck and please let us know if you successfully resolve your issue with guidance from this page.
Why does GetHuman Write How-to Guides for eBay Problems?
GetHuman has been working for over 10 years on sourcing information about big organizations like eBay in order to help customers resolve customer service issues faster. We started with contact information and fastest ways to reach a human at big companies. Particularly ones with slow or complicated IVR or phone menu systems. Or companies that have self-serve help forums instead of a customer service department. From there, we realized that consumers still needed more detailed help solving the most common problems, so we expanded to this set of guides, which grows every day. And if you spot any issues with our Can You Open Another Ebay Account After Suspension? guide, please let us know by sending us feedback. We want to be as helpful as possible. If you appreciated this guide, please share it with your favorite people. Our free information and tools is powered by you, the customer. The more people that use it, the better it gets.
eBay
Speak to An Expert Now
We partner with a US-based expert help site to provide you with tech support 24/7. Enjoy a $1 one-week trial membership and chat with a live expert now.
Get Live Expert Help
Asked 2 years ago
Updated 2 months ago
Viewed 1,871,502 times
What customers are saying about this and similar problems
Trying to return a purchase.
I really need for a customer service representative too call me ***-***-****
I need my email language to be changed as I Donny understand Polish
My issue involves two clients. The wrong packages got sent to the wrong people unfortun...
I'm not getting order confirmation or any other email. I've tried changing my email in...
Paying Too Much for Internet?
We created a free, impartial concierge you can speak to right now that can compare TV, cable, phone, and Internet deals in your area. Are you already getting the best deal? Call now and talk to a real, live person who can tell you what promotions you are missing out on.
Call Free Anytime: 888-379-2546
Our service is unaffiliated and thus can compare plans across many providers