How Do I Report an Ebay Scam?
If you believe you have been a victim of fraud on eBay, you should report it to eBay. If the problem was related to an item you paid for, and if the listing is still active, you can start the report with a click of a button. Otherwise the process is a little more involved, but still convenient.
A lot of people buy items on eBay, so there are also a very large number of vendors using the site to sell things. Unfortunately, this vast pool of sellers sometimes includes people who try to use the site to commit fraud. If you believe you have been the victim of fraud while shopping on eBay, you do have some recourse. Also, by learning how to report it, you can may be able to prevent someone else from falling victim to an eBay scam. This article will teach you how.
Before You Do Anything
Before you make any accusation of fraud, it's a good idea to read eBay's rules to make sure that what you experienced actually was fraud. It is also a good idea to note what rules you believe the seller broke as the platform will need to know this information in order to pursue your claim.
If the Listing Itself Was Fraudulent and is Still Active
If the eBay item was falsely advertised in the listing, and the listing is still active, it's easy to report the fraud. Just scroll down to the bottom of the page and click on the "Report item" link. The platform will conduct an investigation of your report, usually within a 48-hour period. The site will send you a message about any conclusiong it has reached.
In Other Cases
If it was the seller's behavior that was fraudulent, rather than the item itself, or if the listing is no longer active, you must use a different method of reporting a potential eBay scam. In these cases, you should use these instructions:
Go to eBay's home page.
Sign into your account.
Click on See Return Details (if you're trying to return the item for a refund) or See Request Details (for other cases).
Click on the Ask eBay to Step In button.
After you have submitted the request, eBay will begin an investigation into the matter. It's helpful to provide any details that are requested. In most cases, the investigation should not take longer than 48 hours, and eBay will send you a message when it has come to a conclusion about your claim of fraud.
Reporting the Fraud to Law Enforcement
If the matter is serious enough, and you are sure it is an example of fraud and not an honest mistake, you should consider reporting the matter to law enforcement. If you do, you should bring any proof you have with you, including records of any conversations between you and the seller.
Contacting eBay
If you have any questions about reporting scams, contact eBay's customer service department. You can reach a representative by phone or help forum.
Help from Real People
We partner with a US-based company with live tech support experts available 24/7. Take advantage of a $1 one-week trial membership and chat with an expert now.
Chat With A Help Expert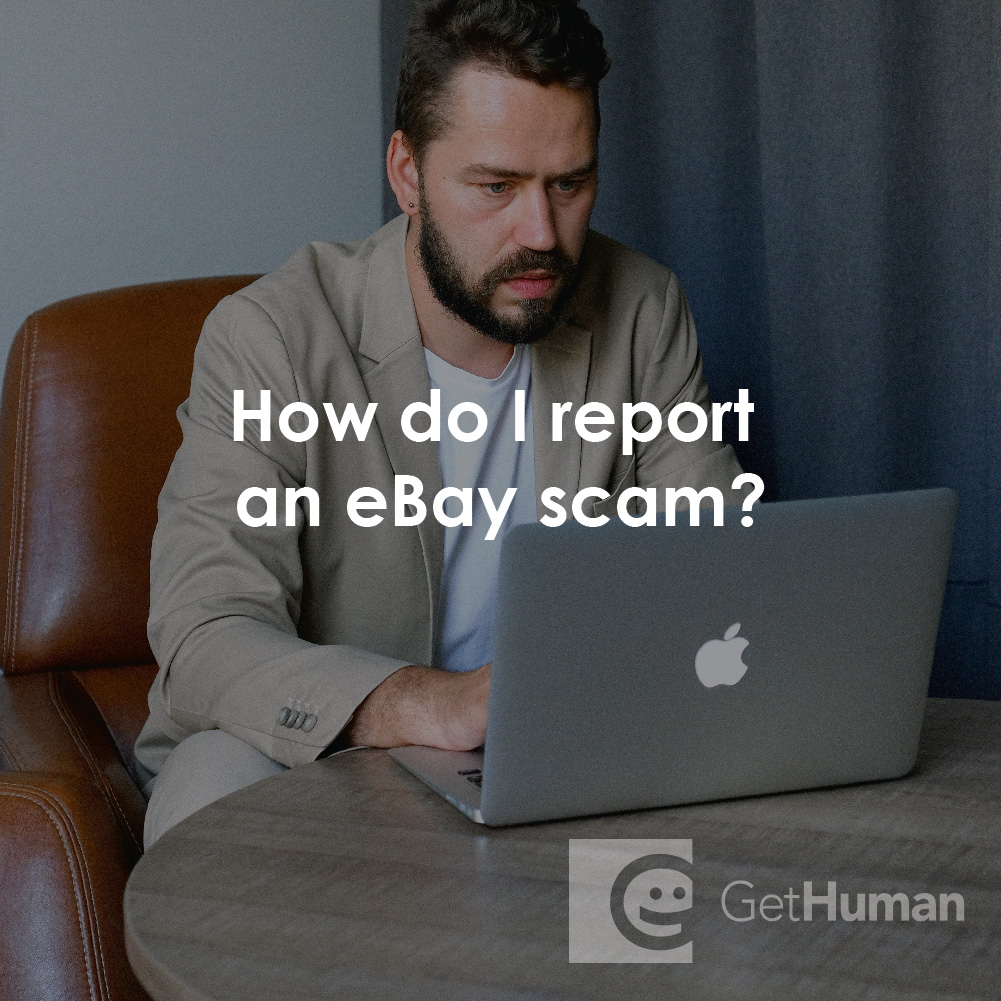 Why Did GetHuman Write "How Do I Report an Ebay Scam?"?
After thousands of eBay customers came to GetHuman in search of an answer to this problem (and many others), we decided it was time to publish instructions. So we put together How Do I Report an Ebay Scam? to try to help. It takes time to get through these steps according to other users, including time spent working through each step and contacting eBay if necessary. Best of luck and please let us know if you successfully resolve your issue with guidance from this page.
Why does GetHuman Write How-to Guides for eBay Problems?
GetHuman has been working for over 10 years on sourcing information about big organizations like eBay in order to help customers resolve customer service issues faster. We started with contact information and fastest ways to reach a human at big companies. Particularly ones with slow or complicated IVR or phone menu systems. Or companies that have self-serve help forums instead of a customer service department. From there, we realized that consumers still needed more detailed help solving the most common problems, so we expanded to this set of guides, which grows every day. And if you spot any issues with our How Do I Report an Ebay Scam? guide, please let us know by sending us feedback. We want to be as helpful as possible. If you appreciated this guide, please share it with your favorite people. Our free information and tools is powered by you, the customer. The more people that use it, the better it gets.
eBay
Speak to An Expert Now
We partner with a US-based expert help site to provide you with tech support 24/7. Enjoy a $1 one-week trial membership and chat with a live expert now.
Get Live Expert Help
Asked a year ago
Updated 2 months ago
Viewed 711,994 times
What customers are saying about this and similar problems
I would like a live person to call me back at ********** as I am old school and do not...
I bought a $** eBay gift card for a birthday gift. When they uncovered the card number...
Calling about the status of my ebay account
I need a refund for all state protection on a canceled purchase.
I received a package of * ea. L.E.D. headlight bulb's for a **** chrysler crossfire. Th...
Free Moving Concierge
Our free concierge service can find the best deals across telecom providers in your new zip code and making sure your services arrive on the same day. Talk to a live person seconds from now who can do price comparisons for you and get a date that works for you!
Call anytime: 888-959-6783
Our concierge is unaffiliated and therefore able to compare deals (and schedule) across many companies